Ron O. Harma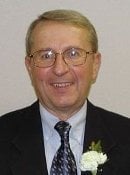 BS Metallurgical Engineering 1961
Metallurgical Engineering 1960
Mr. Ron O. Harma, a native of Hurley Wisconsin, received his bachelor of science degree in Metallurgical Engineering (Minerals Processing) from Michigan Tech in 1960. He continued on to receive a B.S. in Engineering Administration and an M.S. in Metallurgical Engineering from Michigan Tech in 1961. His first position was as a process engineer for the Kennecott Copper Corporation in Salt Lake City, Utah. Joining the Cleveland-Cliffs Iron Company in Ishpeming, Michigan in 1963, Ron progressed through positions in technology and operations and management, including manager of Research and Development, plant manager, and manager of Central Services.
In the early 1970s he was part of a small management team responsible for the design, start-up, and operation of the Tilden Mine Plant near Ishpeming, an operation unique world-wide for its ore processing technology. He transferred to the Cleveland-Cliffs corporate offices in Cleveland, Ohio in 1987 as general manager of Research and Development. Ron served as director of International Projects for mergers and acquisitions until his retirement in 2001 after more than 37 years of service. He is currently doing independent international consulting in Australia, Brazil, the Ukraine, and Siberia.
A distinguished member of the Society of Mining Engineers, he has served as chairman of the local section and has chaired several national committees. Ron is an Emeritus Member of the Michigan Tech College of Engineering Industrial Advisory Board, a Life Trustee of the Michigan Tech Fund, and a member of the President's Club. He is married to the former Ann Marie O'Leary of Hancock, once a department secretary in Metallurgical Engineering, and has two children and two grandchildren. His son is a 1990 graduate of Michigan Tech. Ron and his wife reside in Westlake, Ohio.
From 2003 Induction to the Department of Chemical Engineering Academy