Peter J. Meyers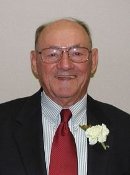 BS Chemical Engineering 1953
Mr. Peter J. Meyers, Jr. , born in Kingsford, Michigan in 1928, graduated from Kingsford High School in 1946. He joined the U.S. Navy afterward, eventually receiving in 1950 a commission as a Second Lieutenant in the U.S. Army-Chemical Corps. Pete received his bachelor's degree in chemical engineering from the Michigan College of Mining and Technology in 1953. He joined DuPont as a research engineer that same year, and over the years he was assigned to a variety of positions in research, process and product development, plant design, construction liaison, engineering, and manufacturing. He went to Tennessee in 1955 as a Senior Engineer, and was promoted to Research Group Leader in 1956. In 1963, Pete was promoted to Manufacturing Superintendent, and in 1965 was named Product Supervisor at the Seaford, Delaware plant.
Over the next 17 years, Pete was transferred to operations in Delaware, Tennessee, and South Carolina. He was promoted to Production Manager, Film Division-Polymer Products in 1980, and in 1982, he was sent to Switzerland as Director of Polymer Products. There his responsibilities grew to include all of DuPont's European manufacturing, safety, and environmental issues. He also directed the efforts of numerous subsidiaries.
Pete's final assignment at DuPont was as Vice President Manufacturing-Agricultural Products, which involved direction of 45 plants all over the world. He retired in 1991 after 38 years of service, and summers in Pennsylvania and winters in South Carolina. Pete and his wife Shirley have four children and eleven grandchildren.
From 2003 Induction to the Department of Chemical Engineering Academy