Michael and Marie Cleveland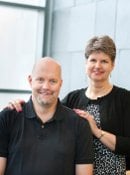 BS Chemical Engineering 1982
Business Administration 1982
When Michael and Marie Cleveland look in the mirror these days, they see success, financial security, and achievement—as well as prospects for helping others go where they have been.
That wasn't always the case with Marie. She started out in engineering but found the discipline was not the be-all and end-all for her. She switched to business, a decision that haunted her for years, because, back in her college days, in the early 1980s, there was an attitude among engineering students that other disciplines were an inferior lot. "You felt like a failure," she recalls.
She laughs about that now, but she didn't shake off that demon until she became a member of Tech's Presidential Council of Alumnae in 2006, when she met "phenomenal women" and wondered, "Why am I in this group?" When she and others compared notes, they found out that they all had excelled in their "careers, communities, and lives." Now, she says, she looks in the mirror and says, "I've done well. I've succeeded."
She and Mike met as students at Tech and have maintained close ties with the University since graduating in 1982, Michael with a BS in Chemical Engineering, Marie with a BS in Business Administration. They live in Northbrook, Illinois, and own a house in Hancock. Their daughter Kerstin has followed their footsteps to Michigan Tech; she is currently a sophomore in chemical engineering.
Both Michael and Marie are grateful for their education and feel part of a standout crowd. Tech graduates, Michael says, are practical, make decisions quickly, know how to troubleshoot, and are able to work with and manage people. "Tech trained me extremely well," he says. Marie adds, "Tech is simply a fabulous school." They want to pass along what Tech has to offer to today's youth.
Michael says that majoring in chemical engineering was "a simple decision," allowing him to hone his love of chemistry and pursue a discipline that promised high salaries. "The two parts gave me a career." He sees his degree as a passport to a lifelong adventure—"travel where you want to go, and enjoy what you do."
Marie came to Tech after attending its Women in Engineering program while in high school. Raised on a farm, she thought Houghton was a big town. She was shy but content in her new environs: "I was on my own. Being independent was the most fantastic part of that whole deal." Being a woman at Tech, she adds, wasn't uncomfortable. "I always felt like the guys were my pals. They looked out for me. It was a wonderful time for me."
Marie has been at FedEx for 24 years. The firm operates in over 210 countries, and she is a worldwide corporate account manager bringing over $55 million to FedEx each year through the six customers with whom she works. "It's the best job in the world," she says. "Tech prepared me better than most women I've known by giving me an education on how to bring solutions from various resources. I'm the only female manager in our division." Regarding the whole concept of being around guys? "They treat you as equal if you treat them as equal."
Michael has been at UOP, headquartered in Des Plaines, Illinois, for 30 years. The firm is a unit of Honeywell International and Michael is the global business director, accountable for about one-fifth of UOP's revenues in the petroleum-refining, petrochemical, and gas-processing industries. These days, he spends much of his time in Asia, a key growing market for UOP. There he has encountered a way of life and business that moves more slowly. "I learned patience in China." He says others' ways "are not wrong, just different." He has adapted to a different culture.
He singles out one difference between the US and China that he says is telltale. "We are a country where the individual is put ahead of the community or group," he notes. He illustrates that big difference with a small example. In the US, he says, mailing addresses go in this order: person first, then street, city, state, and country. In China, it's just the opposite: country first, then city, district, street, and name. In a broader context, then, he says, "In China, group harmony is more important than individual rights. In the US, we are a country that believes in individuals."
In both of their jobs, Michael and Marie are leaders. What is the key to being a good one? "Lead, not direct," Michael says. Marie adds, "Your people need to know that you will stand behind them when they make decisions, and stand in front of them if they're going to face grief." What did it take, beyond education, to succeed? "Tenacity and adaptability," Michael says. "Flexibility," Marie says.
These skills complement their approach to life and work. Michael's abiding attitude is to "provide a lasting mark on the people around you." Marie's is to "bury the past and do not worry about the future. "
They share a view about the paramount challenge facing today's students. "They must maintain a sound financial footing for the country and themselves, Michael says. "I'm excited about this new generation coming in," adds Marie. "They are so interested in helping. They're less selfish. But they don't understand what it takes to accomplish what they will. I just read a report that said most people under 40 are fiscally illiterate—they have no concept of saving."
Both lend their guidance to these youth and are stalwart financial supporters of the University. "We've been blessed," Michael says. "We have a sound financial footing, and we want to provide a lasting influence. Somebody supported us when we were students. Now it's up to us to do the same."
They've been doing so since graduating. Marie speaks for both of them when she says: "My entire Tech experience has been such an important part of my life—both my time as a student and as an alum. The education I received was a true training ground for my career path. It feels great to give back and know that we're making a difference to today's Tech students. Yes, our daughter, too!"
By John Gagnon, June 2012