John J. Simmons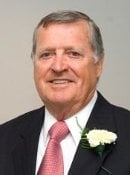 BS Metallurgical Engineering 1953
A native of Ironwood, Michigan, Mr. Simmons learned the basics of business at the age of ten with two paper routes, and by the age of thirteen he was operating five Sunday paper selling locations. He graduated Summa Cum Laude from Michigan Tech in 1953 with a bachelor's degree in Metallurgical Engineering. While at Michigan Tech, he was a four-year member and captain of the Michigan Tech boxing team, and was a member of Alpha Sigma Mu and the Tau Beta Pi and Blue Key National Honor Societies. Upon graduation, Mr. Simmons worked in the iron ore industry in Minnesota for six years as a plant manager and as the leader of a team that worked on the successful development of heavy media and cyclone iron ore beneficiation technologies. He then formed his own engineering company, Simmons and Associates, developing technology for such clients as Kennecott Copper Corporation, United States Steel Corporation, and the Ethyl Corporation.
Moving to North Dakota in 1969, Mr. Simmons managed several major construction projects until he returned to his own engineering firm to develop technology that would be the basis for the formation of Carbontec Energy Corporation and Thermo Technologies, LLC. Chairman and CEO of Carbontec and Thermo Technologies, Mr. Simmons has more than a dozen patents in areas such as energy, coal, wood products, chemicals, and oil spill cleanup. Carbontec's synthetic coal technology is used to produce more than 12 million tons of synthetic coal per year, while Thermo Technologies develops and markets super absorbent fire retardant polymers for the fire suppression and fire protection industry.
An Air Force veteran, John is a member of the American Institute of mining and Metallurgical Engineers and is on the Board of Directors of the Theodore Roosevelt Medora Foundation. He received the North Dakota Entrepreneur of the Year Award from the University of Mary in Bismarck, North Dakota in 2005. John resides with his wife of 52 years, Nancy, in Naples, Florida.
From 2006 Induction to the Department of Chemical Engineering Academy