James J. Graham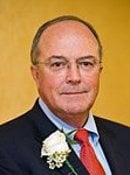 BS Metallurgical and Materials Engineering 1970
Jim Graham, a resident of Centennial, Colorado, is a 1970 graduate of Michigan Tech's Department of Metallurgy and Materials Engineering. Jim began his career as process engineer for Texas Gulf in Moab, Utah. In 1973, he moved to the coal fields of West Virginia for Zapata Corporation and through a series of promotions moved to Lexington, Kentucky as Vice President Engineering. His next move in 1992 was to General Exploration Company, a diversified energy company in Dallas, Texas, as President. In 1984 Jim joined the French oil, gas and mining company, TOTAL, as President of their US operations.
After almost ten years with TOTAL, he moved to ConverDyn as the President and CEO. ConverDyn is the partnership between affiliates of Honeywell International and General Atomics, and managed the conversion services business from Honeywell's Metropolis, Illinois facility. In addition to his position at ConverDyn, he was a Senior Vice President of General Atomics and responsible for the company's nuclear fuel cycle activities from 1992 until 2004. After leading ConverDyn for over 16 years, Jim retired in June 2009 and established his own company, Nuclear Fuel Cycle Consulting LLC, to provide services to the nuclear industry. Over all, Jim retired with 40 years experience in the mining and energy industries with the last 26 in the nuclear industry.
Jim has been the author of numerous papers and presentations for the nuclear industry and was a member of the Nuclear Energy Institute (NEI) Board of Directors. He has served as Chairman of the Board of Governors for the World Nuclear Fuel Market (WNFM) and of the NEI's Nuclear Fuel Supply Forum. He Co-Chaired the World Nuclear Association's 2007 Global Nuclear Fuel Market study.
His activities outside the energy industry include serving as the Chairman of the Board of Trustees for nine years of St. Mary's Academy, a private school in the Denver area. Jim also spent several years as a Trustee of the Michigan Tech Fund, in 1977 was selected the school's outstanding young alumni in 1977 and in 2000 was inducted into the Academy of Materials Science and Engineering.
From 2010 Induction to the Department of Chemical Engineering Academy