Jack M. Wehman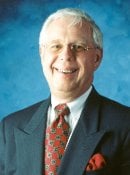 Mr. Jack M. Wehman was born in Pittsburgh, PA in June of 1941. He attended and graduated from Lehigh University in 1963 with a BS in Chemical Engineering. Upon graduating from Lehigh, Jack joined the Drew Chemical Corporation and worked in manufacturing operations producing fatty acids, specialty esters and edible oil triglycerides. In 1975 Jack joined the Merck Corporation at their Calgon Operations in Pittsburgh. During his 10 years with Merck he was involved in variety of technologies including water and oil soluble poly-electrolytes, activated carbon, specialty monomer synthesis and polyphosphate water treatment chemicals.
In 1975 he joined BASF Corporation. During his 25 years with BASF he has held a number of important positions including Director of Technical Affairs for coatings and colorants, director of Midwest ventures, director of strategic business development, and Manager of Corporate Engineering Process Design. Prior to retirement, he was Director of Capital and Conceptual Planning, a position that has NAFTA corporate responsibility for capital management, energy management, site master-planning and capital project/process conceptual review functions.
Jack married his wife Ann in 1964 and they have two children. Jack was active in AIChE/SACHE, a guest speaker at Northwestern University and Texas Tech, and a Lecturer at Penn State University. He was a mentor to BASF's Professional Development Program. Jack was Chair of the Safety Advisory Board in the Department of Chemical Engineering and a frequent visitor to the design classroom where he provided critiques on both student and faculty performance. He was a registered Professional Engineer in Pennsylvania. He was also a Scout Master for the Boy Scouts of America and a Young Peoples Advisor at the Chester Presbyterian Church. Jack M. Wehman passed away in 2002.
From 2000 Induction to the Department of Chemical Engineering Academy