Michael Gregory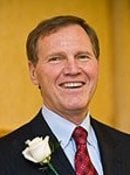 BS Metallurgical Engineering 1969
Michael J. Gregory, a native of Petoskey, Michigan, earned a degree in Metallurgical Engineering from Michigan Tech in 1969. While at Tech, he was active in Student Government, Business Manager for The Lode, and a member of Delta Sigma Phi Fraternity. Upon graduation, he joined American Cyanamid Company and spent five years as a sales engineer in the mineral processing industry. During an 18 month leave of absence, he served in the office of the Commander in Chief for the U.S. Army USAREUR in Heidelberg, Germany.
Mr. Gregory received an MBA at Ohio State University in 1979 and completed the Management Development Program at the University of Chicago in 1987. He joined The North American Coal Corporation in 1974 and has over forty years experience in engineering and management positions in the chemical, energy and mining industry.
During his tenure with North American Coal, he has held various management positions throughout the company. In July of 2006 he took over responsibility of NA Coal's Southern Operations as Vice President and in May of 2008 was promoted to Vice President of Engineering, Human Resources and International Operations.
In addition to his active professional career, Mr. Gregory is a current member of AIME, Rocky Mountain Coal Mining Institute and a registered Professional Engineer in Texas. He also serves on the Board of Regents at Athol Murray College of Notre Dame in Saskatchewan, Canada. Mr. Gregory is a licensed soccer coach in Texas and has refereed soccer since 1984. Mike and his wife Karen currently resides in Dallas, Texas.
From 2010 Induction to the Department of Chemical Engineering Academy