Edward R. Fisher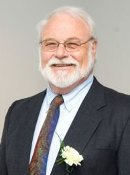 Ed was born in Detroit, Michigan in 1938. In 1943 he moved with his family to Oceanside, California just north of San Diego where he completed his early schooling. He graduated from MiraCosta College in 1958, from the University of California, Berkeley in 1961, and from Johns Hopkins University in 1965 with a Ph.D. in Chemical Engineering Science. After a year at the H.C. Orsted Institute of the University of Copenhagen, Denmark, he joined the General Electric Space Sciences Laboratory in King of Prussia, Pennsylvania.
Ed began his academic career by joining Wayne State University in 1968. He became Professor in 1974 and Associate Dean for Research and Graduate Programs in 1978. In 1985, he joined Michigan Tech as Professor and Chair of the Department of Chemistry and Chemical Engineering. After thirteen years as chair of Chemical Engineering and one year as Interim Dean of Engineering, Ed retired in 2003 as Professor Emeritus.
After retirement, Ed continues to be active by serving on committees of the American Chemical Society in support of chemical technician education and as a Life Trustee of the Michigan Tech Fund. He also is active in village governance as an elected member of the Lake Linden Village Council and as a board member of the Lake Linden Downtown Development Authority. Ed has a small but growing wood crafts business and supports his wife Nancy in her retail business, Yarns & Threads, in yarns, knitting, fabrics, and related fiber crafts. Ed and Nancy live in Lake Linden and have five children and four grandchildren.
From 2006 Induction to the Department of Chemical Engineering Academy