W. Dean Robinson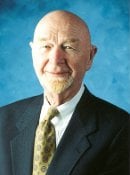 BS Chemical Engineering 1946
Chemical Engineering 1942
Mr. W. Dean Robinson was born in the middle of the Copper Country in Ahmeek, Michigan in 1921. He graduated from Michigan Tech in 1942 with a BS in Chemical Engineering. He served as Captain in the Army Corps of Engineers in overseas airport construction through 1945 when he returned to graduate study at Michigan Tech. He completed his MS in Chemical Engineering in 1946. Later, he completed an MS in engineering administration from Washington University in St. Louis in 1956.
His first industrial position was with the Monsanto Company where he worked for 36 years until 1982. His last responsibility with Monsanto was Manager, Research and Development. In this capacity he provided technology support for several major chemicals including the world's first production of maleic anhydride from butane. Following his retirement from Monsanto he founded Robinson Technical Associates, Inc. in 1985. In this new venture he provided technical assistance to the three largest maleic anhydride plants in the world.
In 1946 he married Genevieve Trione from Laurium, then Secretary of the Department of Chemistry and Chemical Engineering at Michigan Tech. They have three grown children and live in Webster Groves, MO. Dean is the recipient of 13 U.S. patents and many foreign patents. His technical publications include the maleic anhydride sections in the Kirk-Othmer Encyclopedia of Chemical Technology. He is a 50+ member of the AIChE and ACS.
From 2000 Induction to the Department of Chemical Engineering Academy