Christopher Copeland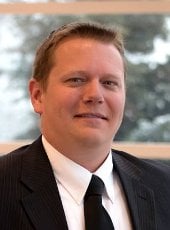 PhD Chemical Engineering 2005
Chemical Engineering 2007
Dr Copeland was born and raised in the small town of Shaftsburg in mid-Michigan. Upon completion of his Bachelors in Chemical Engineering at Michigan State University, he enrolled at Michigan Technology University to pursue graduate studies in August of 2003. Working under the guidance and leadership of Professor S.K. Kawatra in the Chemical Engineering Department, Chris designed a developed a new laboratory test method for evaluating the effectiveness of dust suppressants. Upon completion of his Master Degree in Chemical Engineering in summer of 2005, Chris continued working with Komar advancing wetting theory behind dust suppressant behavior and completed his PhD in May, 2007. That June, Chris accepted a position as a research engineer at ConocoPhillips' Bartlesville Technology Center in Bartlesville Oklahoma. He was charged with developing innovative water treatment and steam generation technologies to support a growing business unit in Alberta Canada's Oil Sands.
In November, 2011 Dr Copeland transferred to ConocoPhillips oil sands operations business as a water treatment engineer. In this capacity he improved the water plant capacity, advanced new treating technologies to reduce operating expenses, and improved facility operational performance while reducing carbon intensity, and facility waste. Chris was promoted May of 2014 and charged to lead a team of engineers responsible for the bitumen and gas treating facilities. The new team's primary focus was preparation for the Surmont Phase 2 facility startup in addition to an aggressive redesign effort for the gas treatment plant. Chris oversaw the initial startup phase of the two of the three trains at Surmont 2 in this capacity. Following reorganization efforts in September 2015, Chris was placed in charge of a consolidated team of engineers which are responsible for optimizing and improving all aspects of the oil sands operation central processing facility including: front end separations, gas and water treatment, steam generation, gathering pipelines, condensate stations and utility systems. This team of facility engineers is pursuing optimization efforts at both Surmont 1 and Surmont 2 to improve facility performance, reliability, and reduce waste and emissions.
When Dr Copeland is not in the oil patch of Northern Alberta, you will find him on the ski slopes, out in a boat, or enjoying a single malt scotch. Despite all of his travels, and international assignments he always looks towards Michigan as home and is deeply proud to call himself a graduate of Michigan Technological University. His four years in the Chemical Engineering department at Michigan Tech will stand the test of time with the fondest of memories, and the greatest of achievements.
From the program for the 2016 Chemical Engineering Academy Induction