William M. Colton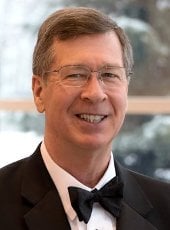 BS Chemical Engineering 1975
William (Bill) Colton is Vice President, Corporate Strategic Planning for Exxon Mobil Corporation. In this role, he oversees the corporation's strategic planning activities and the development of its Energy Outlook, ExxonMobil's assessment of global energy trends.
Bill was born in Massachusetts, and moved to the Midwest at an early age, living in Minnesota and Iowa before settling in Naperville, Illinois for his high school years. His best subjects in school were math and science and this, along with a passion for skiing, brought him to Michigan Tech.
At Michigan Tech in Houghton, Bill started out in the famous Wadsworth Hall, and participated in many intramural sports including skiing. He also spent considerable time doing research on biochemical processes, working for Dr. John Patton. Dr. Patton proved to be a great mentor and advisor to Bill.
Bill received his B.S. degree in Chemical Engineering from Michigan Tech in 1975, when he then joined Exxon Corporation. His first assignment was in Exxon Research & Engineering Company in New Jersey. His career has been spent in both upstream and downstream businesses throughout ExxonMobil, including project development, refining, lubes, synthetic fuels and natural gas marketing. He also worked in finance and planning positions, including ExxonMobil corporate headquarters. In his last job, he was the Assistant Treasurer for the corporation. Bill has thoroughly enjoyed his highly diverse career which has involved research, engineering, operations, marketing, finance, and strategy work.
Bill joined the oil business because he was told this was the best way to "see the world and travel", and this surely proved to be true. He travels extensively, both for business and for pleasure. He spent considerable time on assignments in Italy and Singapore, and he and his family lived for almost ten years in Asia; first in Tokyo, Japan, and then in Bangkok, Thailand. Bill has many opportunities to give speeches about the global economy and the outlook for energy to audiences in universities, companies, governments, and general audiences all over the world.
Bill's best life decision was to propose to his wife, Deborah, who kindly accepted. They were married in New Jersey, her home state, in 1981. She is the Managing Director of Deborah Colton Gallery, a leading art gallery in Houston, and she is a community leader involved in a wide variety of non-profit outreach activities and humanitarian causes.
They have two daughters, Susan and Elizabeth, who live in New York City and Houston, respectively. As a family, and even with their busy schedules, they always find ways to spend time and travel together, as they all enjoy visiting interesting places and eating exotic foods.
Bill is on the board of the National Bureau of Asian Research, and he has spent many years helping the fundraising campaign committee for the United Way in Dallas.
He enjoys reading, sailing, skiing and aviation. For recreation, Bill flies his Cessna Skylane small airplane around Texas and surrounding states.
Bill has over 40 years of experience at ExxonMobil, so he is now contemplating the meaning of retirement in the next few years.
From the program for the 2016 Chemical Engineering Academy Induction