Charles F. Hansen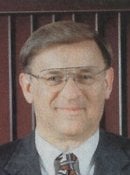 BS Chemical Engineering 1965
Mr. Charles F. Hansen earned a degree in Chemical Engineering from Michigan Tech in 1965. After graduating, he joined the Grain Processing Corporation in Muscatine, Iowa as a Process Engineer. In 1966, he returned to his native town, Neenah, Wisconsin, as a Chemical Engineer with Kimberly-Clark Corporation. Soon after joining Kimberly-Clark he was transferred to South Carolina, where he participated in the construction and start up of a new tissue manufacturing facility. Subsequently, Mr. Hansen moved into operations, managing the production of several different consumer products including KLEENEX facial tissue, KOTEX feminine napkins, and HUGGIES diapers.
After being involved in mill operations in Neenah, Wisconsin; Corinth, Mississippi; and New Milford, Connecticut, he became director of Coform Development in 1984 at the Kimberly-Clark Research Center in Roswell, Georgia. From 1985 to 1989 he served as mill manager of Feminine Care Production in Conway, Arkansas. In 1989 he was named vice president of operations for Pulp and Newsprint at Coosa Pines, Alabama. He returned to Neenah, Wisconsin in 1993 as vice president of operations for the company's feminine care products.
Mr. Hansen has four married children and twelve grandchildren and has been very active in family and church organizations wherever he has lived. He has been on the board of "Young Life"; he was one of the founding elders of Fellowship Bible Church, Conway, Arkansas; and he is currently Chairman of the Governing Board of Calvary Bible Church in Neenah, Wisconsin.
From 1995 Induction to the Department of Chemical Engineering Academy