Quang Ngoc Vinh Tran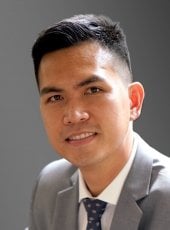 Contact
906-487-3053
Dillman 301H
Assistant Professor, Civil, Environmental, and Geospatial Engineering
PhD, Civil and Environmental Engineering, University of Illinois at Urbana Champaign
MS, Civil and Environmental Engineering, California State University, Fullerton
BS, Industrial and System Engineering, Ho Chi Minh University of Technology, Vietnam
Biography
Dr. Quang Tran is an Assistant Professor in the Department of Civil, Environmental, and Geospatial Engineering at Michigan Technological University. He earned his PhD degree in Civil Engineering at the University of Illinois at Urbana-Champaign. Prior to joining MTU, Dr. Tran dedicated three years to postdoctoral research, contributing his expertise to prestigious institutions including Harvard Medical School, Harvard affiliated hospitals, and the Bioacoustics Research Lab at the University of Illinois at Urbana-Champaign. His research pursuits have spanned diverse disciplines, encompassing material characterization, nondestructive evaluation (NDE), and advanced sensing technologies, which find applications in civil and environmental engineering as well as biomedical challenges. Dr. Tran's contributions to the scientific community are evident through his authorship and co-authorship of over 30 peer-reviewed journal and conference papers. Additionally, he participates as a member of prominent organizations such as the American Concrete Institute (ACI) and the American Society of Civil Engineers (ASCE).
Links of Interest
Research Interests
Pressure sensing
Non-destructive testing
Noninvasive characterization of construction materials and biological tissues
Visual sensing and Deep learning algorithms
Ultrasound and microbubble cavitation
Tran Q., McDannold N., Kheir J., Balcarcel-Monzon M., Li R., Dominguez S., and Peng Y., "Acoustic response of pH-responsive self-eliminating microbubbles for dynamic pressure sensing,", 10th annual Radiology Research Symposium, Boston, MA, May 2023.
Tran Q., O'Brien Jr W., and Han A., "Sticky hard sphere model for characterizing tumor microstructure via quantitative ultrasound," American Institute of Ultrasound in Medicines, 2023.
Tran Q. and Roesler JR, "Contactless ultrasonic and computer vision for setting time and sawcut timing," Illinois Ready Mixed Concrete Association 2020 Conference, Peoria, Illinois, February 2020.
Tran Q. and Roesler JR, "Integration of non-contact ultrasonic and computer vision for setting time and sawcut timing," Better Concrete Conference, Ames, Iowa, November 2019.
Tran Q. and Roesler JR, "Rapid quantification of sawcut damage using deep learning and RGB-D images," International Airfield and Highway Pavements Conference Site, Illinois, July 2019.
Tran, Q., Roesler JR, & Popovics J. S., "Rapid detection of contraction joint cracking using normalized shear wave transmission energy technique," Transportation Research Board 97th Annual Meeting. No. 18-05668, 2018.
Developing non-contact sensing systems and autonomous decision-making for early-age concrete
Investigating durability and compressive strength of HPC mixtures and modeling the corrosion initiation time through the electrical resistivity
Pressure sensing technique for the heart chambers using focused ultrasound and microbubbles
Modeling spatial distribution of scatterers (i.e., liver nuclei) using structure function (SF) to (i) elucidate ultrasonic scattering mechanisms in biological tissues and (ii) characterize tissues properties (i.e., scatterer size and density) for classifying disease type and stages
Infrastructure NDE Methods (Graduate Teaching Assistant)
Structural Analysis Laboratory (Instructor)
I prioritize engaging students' intellect, delivering informative lectures, involving them in project-based activities, and ultimately facilitating their success by recognizing and nurturing their potential for achievement.