Theresa M. Ahlborn, PE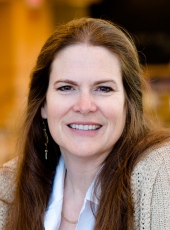 Contact
Retired Fall 2023, Civil, Environmental, and Geospatial Engineering
PhD, Civil Engineering, University of Minnesota
MS, Civil Engineering, Michigan Technological University
BS, Civil Engineering, Michigan Technological University
Biography
Dr. Ahlborn's research is in the area of structural concrete related to concrete buildings and bridges, including the use of ultra-high performance concrete for bridges and remote sensing technologies for bridge condition assessment. She is a respected international scholar with over 110 publications, and has been PI or co-PI on over $10M in research. As the Director of the Center for Structural Durability, an MDOT Center of Excellence, she provided a solid link between industry, government and academia. In 2013, she was named WTS Woman of the Year in Michigan honoring her dedication to the professional advancement of women in transportation, and demonstrated leadership and outstanding contributions in the transportation field.
Her teaching interests included: Prestressed Concrete Design, Reinforced Concrete Design, Bridge Engineering, Structural Analysis and Structural Mechanics. Dr. Ahlborn has taught over 1800 students at both the undergraduate and graduate levels during her career at Michigan Tech, and has guided more than 40 PhD and MS graduate students to completion. In 2010, she was awarded the prestigious PCI Distinguished Educator Award, recognizing educators who have made significant contributions to the precast/prestressed concrete industry and in 2014, she was honored with Michigan Technological University's 2014 Distinguished Faculty Teaching Award recognizing excellence and passion for teaching.
Dr. Ahlborn is a licensed professional engineer (State of Minnesota), a Fellow of the American Concrete Institute, and a Fellow of the Precast/Prestressed Concrete Institute. As an active member in ACI, PCI, TRB and fib, she is the chair of ACI 239 – UHPC and a voting member of ACI 318-B.
Teaching Interests
Prestressed Concrete Bridges
Reinforced Concrete Design
Bridge Engineering - Design and Construction
Structural Analysis and Mechanics
Research Interests
Structural Engineering
Prestressed Concrete Bridges
Applications of UHPC for Buildings and Bridges
Nondestructive Evaluation and Testing
Remote Sensing for Bridge Condition Assessment
Bridge Inspection with Today's Advancing Technologies
Anchorage and Development of Reinforcement
Publications - *denotes students
Dobson, R. J., Ahlborn, T. M. Published (2019) Evaluation of Bridge Decks Using Non-Destructive Evaluation (NDE) at Near Highway Speeds for Effective Asset Management - Implementation for Routine Inspection (Phase III). MDOT Research Reports (SPR-1617C ed.,, pp. 39). Lansing, MI: Michigan Department of Transportation.
Vaghefi, K.*, Ahlborn, T. M., Harris, D. K., and C. N. Brooks, "Combined Imaging Technologies for Concrete Bridge Deck Condition Assessment", ASCE Journal of Performance of Constructed Facilities. American Society of Civil Engineers. Online April 20, 2014. 10.1061/(ASCE)CF.1943-5509.0000465 (in press) Research Board – Design of Structures, National Academy Press, Washington D.C., p. 92-102 (December 2005).
Harris, D. K., Gheitasi, A.*, Ahlborn, T. M., Mears, K. A.*, "Evaluation of Constructed, Steel Tubular, Cast-in-Place (CIP) Piling Properties", Transportation Research Record No. 2363, JOURNAL of Transportation Research Board – Soil Mechanics, Nov. 2013.
Carbonell Munoz, M. A. *, Harris, D. K., Ahlborn, T. M., and D.C. Froster*, "Bond Performance Between Ultra-High Performance Concrete and Normal Strength Concrete," ASCE Journal of Materials in Civil Engineering. 26 (8), 04014031, August 2014.
Ahlborn, T. M., G.A. Kollmorgen*, and M.E. Hansen*, "A Method of Measuring the Displacement of an Ultra-High Performance Fiber Reinforced Concrete by Means of Unbound Gages," Experimental Techniques. Society for Experimental Mechanics. (in press June 17, 2013, doi: 10.1111/ext.12028)
Ahlborn, T.M., K. Vaghefi*, D.K. Harris, and C.N. Brooks, "Measurement and Communication of Bridge Performance with Remote Sensing Technologies," Maintenance and Preservation 2012 – Transportation Research Record, JOURNAL of the Transportation Research Board, TRR No. 2292, National Academy Press, Washington D.C., 141-149.
Dr. Ahlborn teaches structural timber design, bridge design and construction, prestressed concrete design, and concrete and masonry building systems.