Martin T. Auer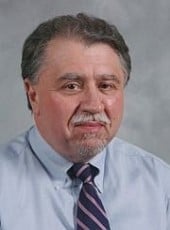 Contact
Professor Emeritus, Civil, Environmental, and Geospatial Engineering
PhD, Water Resources Science, University of Michigan
MS, Environmental Engineering, University of Michigan
BS, Forest Zoology, Syracuse University
Biography
Dr. Auer teaches in the area of environmental engineering, specializing in surface water quality engineering. He works with students at all levels: coordinating freshman orientation, teaching introductory and advanced undergraduate courses, and offering graduate instruction in surface water quality modeling. Dr. Auer's research involves field and laboratory studies and mathematical modeling of water quality in lakes and rivers. Since joining MTU in 1981, he has overseen nineteen masters theses and three doctoral dissertations. Dr. Auer has served as project director or co-principal investigator for more than $2.5 million in externally funded research, has published more than 55 papers in the peer-reviewed literature and has authored or co-authored more than 100 presentations at professional meetings. Dr. Auer's work has appeared in Environmental Science and Technology, the Journal of Environmental Engineering, the Journal of Great Lakes Research, the Journal of Lake and Reservoir Management, and Water Research. Dr. Auer is also one of seven MTU faculty and graduates who collaborated in co-authoring the textbook, Fundamentals of Environmental Engineering.
Links of Interest
Teaching Interests
Surface water quality engineering
Research Interests
Limnology
Engineering approaches to lake and river management
Mathematical modeling of surface water quality
Auer, M.T., Kieser, M.S., and R.P. Canale. 1986. Identification of critical nutrient levels through field verification of models for phosphorus and phytoplankton growth. Canadian Journal of Fisheries and Aquatic Sciences, 43(2): 379-388.

Canale, R.P. and M.T. Auer. 1987. Personal computers and environmental engineering. Environmental Science and Technology, 21(10): 936-942.

Auer, M.T. and S.W. Effler. 1989. Variability in photosynthesis: Impact on DO models. Journal of Environmental Engineering, 115(5): 944-963.Effler, S.W., Brooks, C.M., Auer, M.T., and S.M. Doerr. 1990. Free ammonia and toxicity criteria in a polluted urban lake. Research Journal of the Water Pollution Control Federation, 62(6): 771-779.

Auer, M.T. and S.L. Niehaus. 1993. Modeling fecal coliform bacteria: I. Field and laboratory determination of loss kinetics. Water Research, 27(4): 693-701.

Storey, M.L., Auer, M.T., Barth, A.K., and J.M. Graham. 1993. Site-specific determination of kinetic coefficients for modeling algal growth. Ecological Modelling, 66: 181-196.

Heidtke, T.M. and M.T. Auer. 1993. Application of a GIS-based nonpoint source nutrient loading model for assessment of land development scenarios and water quality in Owasco Lake, New York. Water Science and Technology, 28(3-5): 595-604.