Stephen M. Morse, PE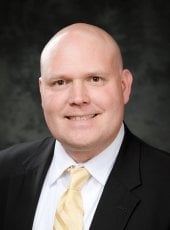 Associate Teaching Professor, Mechanical Engineering-Engineering Mechanics
Affiliated Assistant Professor, Civil, Environmental, and Geospatial Engineering
PhD, Civil Engineering, Texas Tech University
MS, Civil Engineering, Texas Tech University
BS, Civil Engineering, Texas Tech University
Biography
Dr. Stephen Morse is an associate teaching professor at Michigan Tech University in the Department of Mechanical Engineering-Engineering Mechanics. He is also affiliated with the Department of Civil, Environmental, and Geospatial Engineering. He has extensive experience in model scale and full scale testing, numerical modeling and software development related to window glass strength. For the past twelve years Dr. Morse has served as a technical adviser on the ASTM subcommittee responsible for maintaining and updating the national window glass standard, ASTM E1300. He contributed and authored key provisions to the E1300 standard including the addition of a generalized analytical procedure, expanded NFL charts and updated examples. Dr. Morse also serves as the Convener of Work Group 1 of ISO TC 160/SC 2 Strength of Glass in Buildings and a member of the US Technical Advisory Group.
Research Interests
Window Glass Strength Design
Wind loads on Structures
Finite Element Modeling of Brittle Materials
Large Scale Data Processing and Data Mining
Dr. Morse teaches sustainability and civil engineering practice, loads for civil structures, and structural dynamics.