After decades of educating and inspiring students, Michigan Tech's Associate Professor of Economics, Dr. Paul Nelson, is retiring.Much like the university he's called home for the past 45 years, Nelson has often found himself ahead of the curve. Chalk it up to his affinity for change:"It was never enough for me to do the same thing forever. So I was always the one to jump on anything new that came along."Paul Nelson That adventurous spirit gave him the opportunity to help shape the lives and careers of thousands of students in several different departments, many of whom have gone on to find great success. In fact, the current president of Michigan Tech, Dr. Glenn Mroz, was Nelson's student, as was MTEC SmartZone CEO, Marilyn Clark. One of Nelson's lessons especially resonated with her. "At MTEC SmartZone we coach entrepreneurial engineers to understand the balance of going to market with a perfect product versus a minimally viable product. This can be a make-it or break-it factor into getting a product to market. I learned this in the classroom from Paul Nelson. He would lament the striving for perfection and missing the market. Today creating a market with a minimally viable product is a chief element of entrepreneurship. Paul was ahead of his time."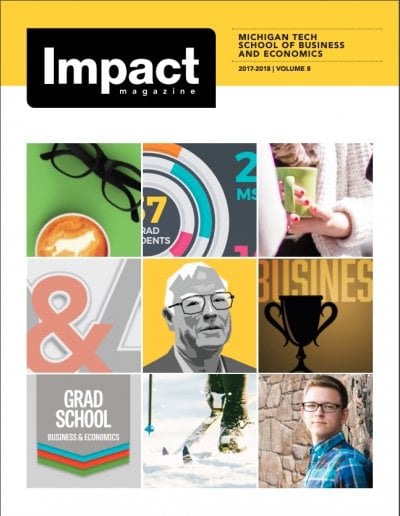 Impact is published annually by the School of Business and Economics at Michigan Technological University.
Dean: Dean Johnson, PhD
Editor: Jodie Filpus-Paakola and Karyn Olsson

Creative: Upper Peninsula Marketing Department, Inc.
Authors: Upper Peninsula Marketing Department, Inc.
Photography: Brockit Photography, UMC and Sara Kilgas
Please send correspondence to impact@mtu.edu.