Outstanding Man in Business: Jaylyn Williams-Boone
Jaylyn Williams-Boone is a native of Flint, MI who prides himself on beating the odds. As an outstanding student-athlete at Michigan Tech, Jaylyn has worked to blaze a path of success not only for himself, but for all who choose to follow. In addition to playing football, Jaylyn has been involved with the National Society of Black Engineers (NSBE), various volunteer efforts, and part-time employment throughout the community. Following his undergraduate degree, Jaylyn plans to obtain his graduate degree in accounting through our very own School of Business. He then hopes to use his knowledge and experience to positively impact companies with efficiency and optimization strategy consulting.
In a quote describing his life thus far, Jaylyn said, "I know that I could've easily become a negative product of my environment, but I was blessed with great opportunity and even greater support. Knowing that pushes me to excel in the classroom, on the field, and beyond."
Outstanding Woman in Business: Kayleigh Lake
Kayleigh Lake is a local student who always envisioned herself as a businesswoman. It took her just one accounting class with Professor Joel Tuoriniemi to discover her calling. "I'm passionate about my work and I like detail, organization and solving problems. Accounting requires all of this so it was an easy choice for me." Off campus, the senior serves at her church as an assistant leader to the Word of Life program and on the cleaning crew. She hopes this award, along with her academic success and participation in extracurricular activities, motivates other students to achieve greatness. "I feel privileged to earn this award. Anything is possible with dedication and hard work and I hope I serve as an example of that."
Kayleigh will graduate this spring with a bachelor's degree in accounting and minor in economics. Immediately following, she will continue her education in the accelerated masters program to pursue an MSA. She remains open to opportunities for her career and is confident Michigan Tech has prepared her with an excellent education while allowing her to develop both personally and professionally.
---
MTU Places 1st in THE Project 2017 Competition
For the past six years university teams have competed in THE Project, a West Michigan Chapter of THE Project Management Institute Project Plan Competition. The Michigan Tech School of Business and Economics is the only university to have placed in the top three all six years of the competition's history. However, this is the first time a Michigan Tech team has taken the top spot.
The scenario for this year's competition focused on the implementation of community gardens. Teams in the competition were required to propose garden designs, community outreach plans, and a five-year budget, through the submission of three deliverables and the final presentation at the competition. Judges selected the top team from each competing division to present to the greater audience and a panel of judges which could recommend funding for the project. There were nine teams at the competition representing seven schools from around the region.
The "Turnip the Beet" team includes Supply Chain and Operations Management Students - Beth Dorvinen; Patrick Koro, Lora Kositzky; Shea St. Cyr; Management Student – Preeti Malik; and Engineering Management Student – Chester Winfield. Shawn Rathbun, a Michigan Tech alum, served as the students' instructor from the School of Business and Economics. Their company mentor was Gabrielle Haskins, PMP and CEO, from Project Executive LLC located in Lansing, MI.
Michigan Tech's "Turnip the Beet" team went a step beyond the hypothetical project and worked directly with the community of Wakefield, MI on a real garden proposal as the basis for their design. The team made a handful of onsite visits to meet with the city manager, Richard Brackney, and community members to get their input on the project design and details. The proposed garden design and budget plan relies heavily on community volunteers and donations for its success. The reality of the project,
realistically achievable budget and a strong branding helped earn the team 1st place and $2500 for the community of Wakefield to help start the garden from WPMI. The community garden was on track to open this past summer for its first season. Michigan Tech's second team, "Bay Area Consulting", also took their project to the community by working with Dollar Bay, MI for their proposed community garden.
---
Welcome new faculty member Ulrich "Ulli" Schmelzle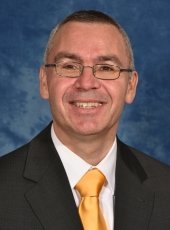 Ulrich Schmelzle
Ulrich earned his Ph.D. in Business Administration with a concentration in Supply Chain Management from the University of Tennessee in Knoxville. He also holds an MBA from Arizona State University and a bachelor degree (equiv.) in Industrial
Engineering and Management from the University of Hamburg, Germany.
Prior to returning to academia, he held different managerial positions in supply management, manufacturing, and logistics planning. With more than 18 years of industry experience, he has worked as a consultant, entrepreneur, and senior manager primarily in the semiconductor and aerospace industries. His research focuses on managerial decision-making promoting efficiency and innovativeness. He is particularly interested in how operations and supply chain management can enhance the innovation performance of the organization.
---
Outstanding Alumni and Friends Recognized at Alumni Reunion
Board of Control Silver Medal
Presented to persons who, through personal and professional achievement, are outstanding examples to Michigan Tech's more recent graduates.
John Drake '64 BS Mechanical Engineering, '68 MS Business Administration, Hancock, MI
Norbert Verville Sr. '60 BS Business Administration, Houghton, MI
Distinguished Alumni Award
This award recognizes alumni who have made outstanding contributions both in their careers and to Michigan Tech over a number of years.
John Rockwell '79 BS Business Administration, San Jose, CA
---
Students in the real world
Real world experience and professional development of our students is a priority.
One way students develop is by interning. Internships provide students a chance to work on special projects at companies and corporations throughout the country and locally. Rachel Chard has gone above and beyond enhancing her education with internships early on in her academic career. Majoring in management with a concentration in supply chain and operations management, she has had three internships during her time in the School of Business and Economics. Her first internship was with Amway in Grand Rapids, MI then she interned with Kohler in Wisconsin where she was project lead in the development of a new sink. Now Rachel can go to the Kohler website and see the sink she helped develop. This Summer, Rachel returned to Amway and relocated to California to work.
The value of students participating in internships is immeasurable and it is win-win for all. If your company desires to find a Michigan Tech School of Business and Economics student to intern please email business@mtu.edu and get connected to quality students and see their potential, it is AMAZING!
---
---
Distinguished Teaching Award Finalists
The William G. Jackson Center for Teaching and Learning recognized outstanding contributions to the instructional mission of the University Based on more than 50,000 student ratings of instruction responses, ten finalists were identified for the 2017 awards. Reflecting our emphasis on quality teaching, three of the ten university finalists are SBE faculty.
Associate Professor / Professor
Mari Buche (SBE), associate professor
Yu Cai (SoT), associate professor
Mary Carol Friedrich (VPA), professor
Ann Maclean (SFRES), professor
Scott Miers (MEEM), associate professor
Assistant Professor / Lecturer /
Professor of Practice
Todd Arney (SoT), lecturer
Sheila Milligan (SBE), senior lecturer
Brigitte Morin (Bio Sci), lecturer
Elizabeth Reed (Math), senior lecturer
Jeffrey Wall (SBE), assistant professor
---
Honor Society Inductees
On Tuesday, April 4, 2017, the Michigan Technological University chapter of Beta Gamma Sigma inducted 17 new members. Beta Gamma Sigma is an international
honor society that recognizes the top 10% of undergraduates and the top 20% of master students. Michigan Technological University's Chapter Advisor is Senior Lecturer, Sheila Milligan.
Jimmie Cannon Earns Percy Julian Award
The Percy Julian Award is named in honor of Dr. Percy Julian, an organic chemist with numerous scientific accomplishments and an important figure in the social equality movement.
Jimmie Cannon, a member of the Michigan Tech football team, was presented with the Percy Julian Award. The prestigious award is given each year to a Tech student who is active in the promotion of diversity, social equality or racial/ethnic and cultural understanding. Cannon was nominated for this year's award by Kellie Raffaelli the director of the Center for Diversity and Inclusion. Cannon, a Junior from Detroit majoring in accounting, is a member of Michigan Tech's Undergraduate Student Government representing the School of Business and Economics where he plans initiatives to promote diversity and inclusion on campus. "I was very honored to receive this award and promoting diversity and inclusion is just something that is organic to me," Cannon said. "Currently I'm working on creating a class to help the University become more diversity aware." Raffaelli said "As one of the few minority
University Student Government members, Jimmie has stepped up to lead several initiatives to promote diversity at Tech. "
---
Business + STEM + MTU = Success
Michigan Tech supports students from all across campus. Success is made by combining business and STEM. Our entrepreneurship student organization helped merge it all. Recently the seventh annual New Venture Competition took place at Central Michigan University. A total of 29 student teams competed: 24 from CMU, four from Michigan Technological University and one team with members from both universities.
More than $77,000 was awarded to seven different teams.
Michigan Tech senior Nick Dubiel, mechanical engineering, won $30,000 for Best Overall Venture with an idea for his company, Multi Dimensional Manufacturing, and its product, "The Metaloid."
Dubiel, who received help from fellow MTU student Morgan Crocker and mentor Jim Baker, Executive Director, Innovation and Industry Engagement, said he never believed he would win the cash prize.
"I was not expecting to do as well as I did in this (competition)," Dubiel said. "I got a lot of new decisions to make, but it will be fun, because I didn't anticipate any of this."
To read more visit:
http://www.cm-life.com/article/2017/03/new-venturemarch-24-2017
Michigan Technological University is a public research university founded in 1885 in Houghton, Michigan, and is home to more than 7,000 students from 55 countries around the world. Consistently ranked among the best universities in the country for return on investment, Michigan's flagship technological university offers more than 120 undergraduate and graduate degree programs in science and technology, engineering, computing, forestry, business and economics, health professions, humanities, mathematics, social sciences, and the arts. The rural campus is situated just miles from Lake Superior in Michigan's Upper Peninsula, offering year-round opportunities for outdoor adventure.