With donuts in hand, Impact discussed the question "Why graduate school?" with Abby, Katie and Tessa.
The Guestbook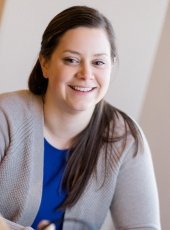 Talented with numbers, Tessa Haapapuro began her academic adventure with an undergraduate degree in accounting from the School of Business and Economics. Tessa is grateful for her forward-thinking professors who understood her goal to become a CPA. They helped her design a coursework plan that will earn her enough credits to take her CPA exam while graduating with both an undergraduate and master's degree this December. "I'm amazed and humbled by the support from my professors and their help in preparing me to sit for the CPA exam. I feel very fortunate that my professors brought those requirements to my attention; it helped make graduate school a very easy choice. " In June 2017, Tessa entered the workforce and started gaining experience at a local accounting firm in Houghton. Meanwhile, she'll continue to earn the required number of credits to sit for the CPA exam. "I'm excited to learn about accounting in a real world environment. I know I'll be well prepared."
---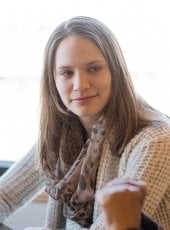 Katie Closner was searching for a strong science-based curriculum to balance her liberal arts education in philosophy and economics from Alma College. That's when she discovered the School of Business and Economics's applied natural resource economics program. A Marquette native, she saw a return to the Upper Peninsula as a bonus. At SBE, Katie can apply her interests of research and technical rhetoric into a program that will help her reach her goals. "I had a very broad undergraduate degree, so SBE seemed like the perfect balance to that. I initially intended to go to law school, but I switched because the program fit my interests. This program is an important step in helping me to reach those goals and offers a good balance in conjunction with my undergraduate degree."
Katie began her program in applied natural resource economics in January of 2017. "I'm excited to be at SBE and focus a little more on one program - I know it will open doors for me."
---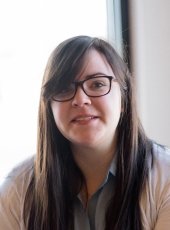 Abby Senczyszyn has big plans. Armed with an undergraduate degree in mechanical engineering, she has turned her focus to a new set of bigger goals: earning her MBA and opening her own practice fabricating and fitting prosthetics for patients. She's already been accepted to the Master's in prosthetics and orthotics program at Northwestern University in Chicago. "I knew that I needed an MBA. My goal is to work daily with patients, to fit and fabricate prosthetics for their needs. Ideally I'd have an opportunity to co-own or own a practice, and this MBA is absolutely one of the essential links. I'm one step ahead and prepared to take it on". In August 2017, Abby left for Chicago to begin her graduate work. "I'm nervous about living in the city, but I know this is the right move. My MBA mixed with my undergraduate work and my masters from Northwestern is a pretty killer combination".
---
Hands-On Experiences
Michigan Tech is committed to meeting the research workforce needs. To do this, the university has ambitious goals to increase graduate enrollment over the next several years. Abby, Katie, and Tessa understand that a master's level education opens up more opportunities. So does Michigan Tech's Dean of the Graduate School, Dr. Pushpa Murthy. She states, "The truth is, when it comes to a skilled, research-focused workforce, more and more jobs are requiring master's degrees because they continue to advance person's disciplinary knowledge and professional skills. From now until 2024, the Bureau of labor Statistics forecasts that jobs available for individuals with a bachelor's degree will increase about 8%. However, positions requiring a master's degree will increase 12% — and in some fields even greater."
Abby, Katie, and Tessa are all following their personal visions by pursuing advanced degrees. Abby dreams of running her own prosthetics practice, Katie aims for a career in research, and Tessa aspires to become a CPA. Each goal requires a higher level of education, knowledge, and experience than a bachelor's degree can offer.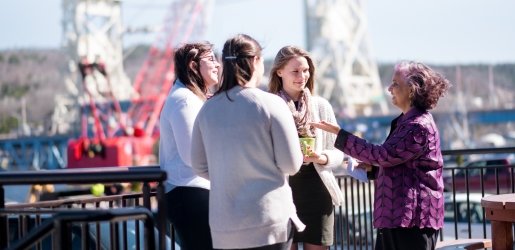 Less than 50% of BS graduates who want to pursue a master's degree after working for a few years actually accomplish that goal. Among the reasons students have provided Dr. Murthy are ongoing family and financial commitments, concerns about leaving a job and missing out on opportunities, and apprehension about being in the student mode with assignments and quizzes and exams all over again.
"Because of these hurdles, for many students, the time to start a master's program is immediately after completing an undergrad degree," says Dr. Murthy. "There are many immediate benefits. Among them—a master's degree allows a student to launch a career with a higher pay and a fast-track to management."
"Abby, Katie, and Tessa speak with total confidence in their choice to earn a graduate-level education", Dr. Murthy notes. "This is the result of having a clear vision and well-defined plan that is created during undergraduate studies".
Michigan Technological University is a public research university founded in 1885 in Houghton, Michigan, and is home to more than 7,000 students from 55 countries around the world. Consistently ranked among the best universities in the country for return on investment, Michigan's flagship technological university offers more than 120 undergraduate and graduate degree programs in science and technology, engineering, computing, forestry, business and economics, health professions, humanities, mathematics, social sciences, and the arts. The rural campus is situated just miles from Lake Superior in Michigan's Upper Peninsula, offering year-round opportunities for outdoor adventure.