After decades of educating and inspiring students, Michigan Tech's Associate Professor of Economics, Dr. Paul Nelson, is retiring.
Much like the university he's called home for the past 45 years, Nelson has often found himself ahead of the curve. Chalk it up to his affinity for change:
"It was never enough for me to do the same thing forever. So I was always the one to jump on anything new that came along."

That adventurous spirit gave him the opportunity to help shape the lives and careers of thousands of students in several different departments, many of whom have gone on to find great success. In fact, the current president of Michigan Tech, Dr. Glenn Mroz, was Nelson's student, as was MTEC SmartZone CEO, Marilyn Clark. One of Nelson's lessons especially resonated with her. "At MTEC SmartZone we coach entrepreneurial engineers to understand the balance of going to market with a perfect product versus a minimally viable product. This can be a make-it or break-it factor into getting a product to market. I learned this in the classroom from Paul Nelson. He would lament the striving for perfection and missing the market. Today creating a market with a minimally viable product is a chief element of entrepreneurship. Paul was ahead of his time."
Nelson's teaching career began in 1966 in an unlikely place— as a commissioned field artillery officer in the U.S. Army. The Department of Defense required a cost analysis for the purchase of any new equipment. However, the uniformed men lacked that expertise, so the Army established an economics training program to teach officers how to do the work. Nelson reflects, "I was involved in a small program to teach these people for a couple years. I was like Lt. Fuzz—a very young-looking me with blond hair trying to teach full-colonels. If I had been a major they would have crucified me, but because I was like a child to them we got along splendidly. That was my first taste of being a college professor." Because the place where he was stationed had academic ranks, Nelson became an assistant professor in 1967 at an Army service school.
A speech by Peter Drucker, one of the world's top management gurus who spoke at the Army school, sparked an epiphany. "I realized that when I got old I didn't want to have one year of experience repeated 45 times. I wanted 45 different years of experience," said Nelson. This desire for change, and a willingness to embrace opportunity, led to a teaching career that has spanned the fields of economics, finance, business policy, operation management, quality control, and entrepreneurship. Whenever there was a hole in a department, Nelson filled it, relying on his broad-based military and economics background, and his ability to pick up subjects quickly. He has published papers in most of the fields in which he has taught.
Nelson was also on the cutting edge in supporting women who were interested in studying business and engineering. In the 1970s there were few female students focused on these academic fields. When MTU received industry financing to establish a career management program for young women, Nelson ran that first program for four years. It was even featured in Time Magazine. He brought in successful businesswomen to serve as inspirational guest speakers. One problem remained, however. High school counselors were still steering female students away from math and science classes. Nelson notes, "They were telling them algebra was a 'guy class' and that they should take typing and stenography. We had a real challenge getting out the message that women should take the college prep classes." Even when the ranks of female students increased, they felt excluded from the all-male study sessions. So Nelson helped establish a sorority to help provide a welcoming environment. Since there were no female professors at the time, he was the advisor. He believes it played a key role in helping women get through college.
Nelson also had a significant impact on MTU's entrepreneurship program. In 1994, when Ed Lumbstein became the engineering dean, entrepreneurship became a top priority. The field encompasses a broad range of skill sets, including finance, operations and marketing. It was a good fit for Nelson. He recalls, "For the next 10 years or so I was Mr. Entrepreneurship. I became involved in a number of enterprises that we had around the campus. I taught entrepreneurship-type short classes in the biomedical engineering department and in mechanical engineering. Everyone wanted a bit of entrepreneurship."
Since 2008, however, he has been teaching in his original field of economics. But he's still found ways to indulge his love of change. Most recently, he helped to establish a regional environmental infrastructure financial center, a collaboration between MTU's School of Business and Economics, and Civil Engineering departments. This spring he led a workshop in Wausau for tribal chiefs and city managers, teaching them how to secure non-federal financing to address environmental issues.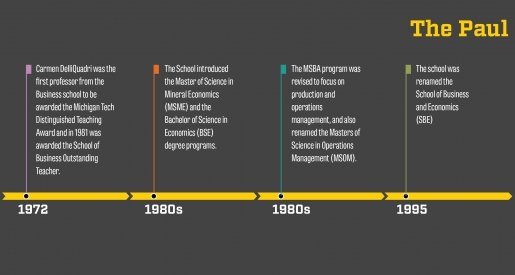 As he looks back over his long career, Nelson focuses on some major changes in the educational arena. He believes technology has helped improve student papers, but negatively affect their ability to do math. PowerPoint– and especially email–have made life easier. He marvels, "Students can just about communicate with me every day. And neither of us has to be in any specific spot to communicate. It's just amazing how much we can do by email. Email has dramatically helped things."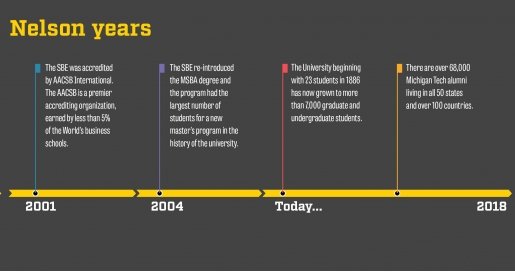 He acknowledges that there is a professional cost to his adventurous spirit. The ideal path to becoming a full professor involves specialization—becoming an expert in a narrowly defined field. Although Nelson's broadbased approach is useful in a field like entrepreneurship, it doesn't necessarily fit the academic mold. "I'm an associate professor; I've had publications and have done lots of interesting stuff." The path in academia chosen by Dr. Nelson was a focus on education and students. Many students, faculty and staff are grateful for his chosen path.
One area in which Nelson has remained static, is his office space. Associate Dean and Professor of Economics Dr. Thomas E. Merz notes, "45.5 years in the same office just might be a Michigan Tech record." Another constant for Nelson has been his dedication to his students. Merz adds, "Digital records show that from September 1993 to April 2017 Paul generated 29,471 student credit hours. Extrapolating to his start date, 1972, he amassed an amazing 55,600 student credit hours over his tenure in the School of Business and Economics. Paul is an academic trifecta—he possesses an inquisitive mind, the heart of a caring teacher and the personality of a valued colleague. He will be missed. "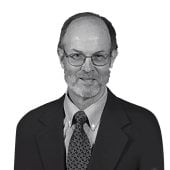 "Paul is an academic trifecta. He possesses an inquisitive mind, the heart of a caring teacher and the personality of a valued colleague. He will be missed."
---
Michigan Technological University is a public research university founded in 1885 in Houghton, Michigan, and is home to more than 7,000 students from 55 countries around the world. Consistently ranked among the best universities in the country for return on investment, Michigan's flagship technological university offers more than 120 undergraduate and graduate degree programs in science and technology, engineering, computing, forestry, business and economics, health professions, humanities, mathematics, social sciences, and the arts. The rural campus is situated just miles from Lake Superior in Michigan's Upper Peninsula, offering year-round opportunities for outdoor adventure.