Steve Worthy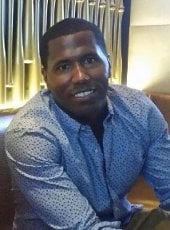 BS Business Administration 2011
Why did you choose Michigan Tech?
Tech appealed to me because of its reputation as an academically rigorous university. It was also an opportunity to live in and explore a part of Michigan that I previously had not experienced.
Tell us about a memorable experience you had with a class or about a favorite professor?
Dean Johnson is one of the best professors I've ever had. He is great at reaching his students and getting his message across in a comprehensible manner. He often went out of his way to ensure students were not only memorizing a formulaic process to reach an answer, but gaining the intuition to allow for practical utilization of information.
Now, how about a memorable experience outside of class?
I was a member of the football team while at Tech and on 10.30.10, under the lights of Sherman Field, we beat the #1 team in the nation! And Winter Carnival (of course)!
How well did Michigan Tech prepare you for your career?
Tech cultivates a remarkable learning environment with the mix of driven, ambitious students and highly-knowledgeable professors. And while I didn't participate in one of Tech's hallmark engineering programs, I found that the business curriculum provided an incredible base of knowledge that prepared me to successfully enter and excel in the workforce.
What was your first job after graduation and how has your career progressed?
My first job was with Enterprise Rent-a-Car as a Management Trainee. After several months of documented sales success, I made the switch to a pharmaceutical sales role with inVentiv Health as a field agent on the Eli Lilly account. I spent two years working for inVentiv/Lilly before re-enrolling in school to get an MBA from the University of Michigan – Ross School of Business. After business school, I joined the Healthcare Investment Banking team at J.P. Morgan where, among other responsibilities, I advise companies on strategic capital raises and deployment to fund core operations and acquisitions.
Tell us about a few of your career highlights and notable achievements?
Honored as the Ross School of Business Global Citizen in 2016
President of the Detroit Revitalization & Business Initiative at Ross
Member of the Ross Leaders Academy
Named MVP of Tech's 2011 football season
What advice on being successful would you give to Tech students and young alumni?
Show up. Put in work. Smile.
Would you share your philosophy of life?
Stay hungry. Stay humble.
Provided by Steve Worthy September 10, 2017