Michelle Wazny (Foy)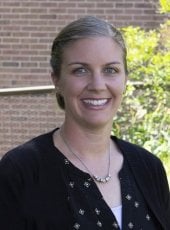 BS Environmental Engineering 2010
Michelle Wazny (Foy) graduated from Michigan Tech in 2010 with her Bachelor's Degree in Environmental Engineering. She later went on to earn her Master's Degree in Engineering Management from Ohio University. A highly technical EHS resource, Michelle is currently a Senior EHS Engineer with Howmet Aerospace in Michigan.
After her father graduated from Michigan Tech, Michelle thought that it was one of the best engineering schools in the Midwest and she knew it was the place for her. "Michigan Tech taught me how to read to understand, apply learnings, find patterns, and solve problems," she said. "Some people only find problems; Michigan Tech engineers find and SOLVE problems."
Reflecting on her time at Michigan Tech, Michelle remembers the difficulty of her Senior Year Process Lab which required hours of data collection, evaluation, and documentation. While it was challenging in the moment, Michelle notes that it has paid off in her career as it taught her grit and determination to push through when things are hard.
Michelle was also involved in Michigan Tech's Visual and Performing Arts, where she met her husband and many great friends. She played in the Wind Symphony, Jazz Lab Band, Pep Band, and Keweenaw Symphony Orchestra.
Michelle advises current students to find what they are passionate about and integrate those passions into their education at Michigan Tech and beyond into the workforce. "Everyone measures success differently," she said. "When you find balance with passion and work, you are on a path of success. Don't give up when things get hard. Find new resources, and tap into your network for help!"
An active member of the Alumni Board of Directors, Michelle is honored to learn from alumni that came before her and volunteer her time and strengths for those that come next.
Updated September 2022