Monica Valentovic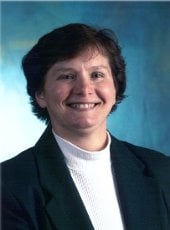 Monica, a chemistry major, received her bachelor's degree from Tech in 1978. She then continued her education at the University of Toledo, earning a master's degree in pharmaceutical science in 1980. Next, she started on her quest for a PhD in Pharmacology at the University of Kentucky. During this time she worked as a Research Assistant. She received her doctorate in 1983. From 1983 to 1984, she was a Postdoctoral Fellow, Tobacco and Health Research Institute at the University of Kentucky. In 1984, Monica joined the faculty at Marshall University in West Virginia as an Assistant Professor in the School of Medicine's Pharmacology Department. She became Associate Professor in 1989, and since 1994, she has been a Professor in the Department of Pharmacology.
Monica is a member of the Society of Toxicology (SOT) and the American Society of Nephrology. She is President of the In Vitro Section of SOT. In addition, she has published over 70 professional publications and book chapters, and 100 abstracts. In 1991, she was named Professor of the Year at Marshall University. She is listed in Who's Who in the World, 2001 and in New Providence Marquis Who's Who, 2000.
Monica is active in the Marshall University community through her numerous committee involvements. She has served on the Graduate School Curriculum Committee, the Animal Research Committee, the Medical School Admissions Committee and several faculty search committees. She has been very involved with the University's Yeager Scholars Program (Yeager Scholars are the top students at Marshall University) serving as a Yeager Scholar Professor from 1987–1998, and being a member of both the Society of Yeager Scholars Steering Committee and the Society of Yeager Scholars Curriculum Committee.
In addition to her academic pursuits and interests, Monica is also very involved in the American Rose Society. She has acted as a Consulting Rosarian for the organization, and currently serves on their research committee. Currently, she is the Co-Chair for the Consulting Rosarian Program for the Colonial District (Maryland, Washington, D.C., West Virginia and Virginia).
Monica and her husband, Gary Rankin, make their home in Lavelette, West Virginia.
From the 2002 Presidential Council of Alumnae Induction.