Tina Schmiedel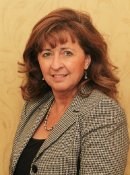 BS Chemical Engineering 1984
BS Business Administration 1984
Tina graduated from Michigan Tech in 1984, receiving Bachelor of Science degrees in both chemical engineering and business engineering administration. Upon leaving Tech, she accepted a position as Operations Manager with Procter & Gamble in Green Bay, WI where she moved through assignments of increasing responsibility over the next 17 years of her career. In 2002, she resigned from P&G following her assignment as the Operations Leader for North American Towel to focus on her family and earn her MBA. In 2003, she received her MBA from UW-Oshkosh

In 2004 she went to work for Oshkosh Corporation, a leading manufacturer and marketer of access equipment, specialty vehicles and truck bodies for the primary markets of defense, concrete placement, refuse hauling, access equipment and fire & emergency. Her initial position was in Strategic Marketing, followed by a role in the Investor Relations area. She currently serves as the Director of Strategic Initiatives which supports the execution of the corporation's initiatives for new products and new markets.

While at Michigan Tech, Tina was a member of Alpha Sigma Tau sorority and the Society of Women Engineers. In addition, in 2004 she was a Winter Carnival Queen finalist. As an alumna, she came to campus as a P&G recruiter participating in Career Fairs. She spoke at the recent SWE Conference held at Michigan Tech in February of 2014.

She has been an active member of her community over the years participating in Kiwanis, Big Brothers/Big Sisters, Youth Leadership Oshkosh, and currently serves on the board of Christine Ann Domestic Abuse Services Inc.

Tina is mother to three children, Sarah, Rebecca and Jacob. She and her husband, Gary, a fellow Tech alum (1983-mechanical engineering) make their home in Oshkosh, WI.
In 2014, in recognition of her significant achievements, Tina inducted into the Presidential Council of Alumnae. This profile appeared in the induction program, September 19, 2014.