Suzan Phelps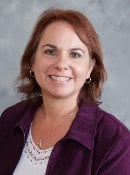 BS Metallurgical Engineering 1980
Suzan Phelps earned her bachelor of science degree in Metallurgical Engineering in 1980. She also attended San Diego State University in the mid 80's, pursuing, although not completing, an MBA prior to starting her family. She became a Certified Quality Manager back in the early 90's and just this year became qualified as a Certified Professional in Supply Management.
Suzan's first engineering position was with Westinghouse Electric, at which time she participated in their Manufacturing Professional Development program and had an opportunity to work at several plants and obtain additional training. Due to the plant closing in the 1982, she found a new opportunity in San Diego, working for General Dynamics Convair Division, a manufacturer of the KC-10 and MD-11 fuselage and cruise missiles. She started with GD as an industrial engineer on the KC-10 line and soon moved into a process control engineering position, responsible primarily for heat treating operations. She was subsequently promoted to Lead Quality Engineer on the MD-11 line. Another plant closing, and it was back to Michigan to work for Aeroquip Hose Products in Jackson as Quality Manager. It was a turnaround situation, and in her opinion a "real life MBA". In addition to eventually turning a profit, the Baldrige business model was learned and applied, earning the company the Michigan Quality Leadership Award.
In 1998, Suzan headed south to Troy, Ohio to work for Goodrich Aircraft Wheels and Brakes, again as Quality Manager and eventually moving into Continuous Improvement Management. She launched their Six Sigma program and facilitated numerous Lean teams, which drove savings to the bottom line and improved customer satisfaction. Today she is working for Hartzell Propeller in Piqua, Ohio as the Director of Strategic Sourcing, where she is responsible for creating and executing the supply strategy for the company.
Suzan has been involved in a number of professional organizations. A senior member of the American Society for Quality (ASQ), she held the office of treasurer for a number of years. She is also a member of the Institute of Supply Management (ISM). Suzan was actively involved with the Dayton Area Quality Award organization, where she was lead examiner for their Baldrige process. This organization was disbanded and evolved into the Ohio Partnership of Excellence, of which she has been actively involved while working for both Goodrich and Hartzell.
While a student at Michigan Tech, Suzan was involved on the yearbook committee in her freshman year. She also was an officer of Alpha Sigma Mu, the metallurgical honor society, and President of the Delta Sigma Phi Little Sisters organization in her senior year.
When Suzan moved to Ohio, she immediately got involved with the community and became a volunteer for Touching Little Lives, a 501c3 charity that makes quilts and clothing items for needy newborns and preemies in the area. She was the Dayton Area Regional Coordinator for six years. Her love of quilting has helped to keep many babies warm over the years. Most recently she became involved with Quilts of Valor as a volunteer, making quilts for wounded soldiers that are distributed through the local VA hospital. She has been a longtime annual contributor to Michigan Tech providing support for numerous department, program and scholarship needs.
Suzan lives in Piqua, Ohio with her husband Bill and has two sons away at college – Michael and Greg. Her step-son Kirk is in the Air Force, and her step-daughter Sarah is attending Sinclair Community College in Dayton.
In recognition of Suzan's significant achievements, she was inducted into the Presidential Council of Alumnae (PCA) in 2012.
Excerpted from the 2012 PCA Induction Ceremony.