Susan Trahan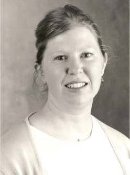 BS Mechanical Engineering 1987
Susan graduated from Michigan Technological University with a Bachelors of Science in Mechanical Engineering in 1987. In 1994 she received a Master's of Science in Business Administration from the University of St. Thomas in St. Paul, Minnesota.
Susan began her career as a Quality Engineer in Precision Weapons Development at Alliance Techsystems/Honeywell. In 1991 she began working for SCIMED, which later became a division of Boston Scientific Corporation, as a Quality Engineer in Manufacturing. SCIMED develops and manufactures disposable medical devices for use in coronary angioplasty and related procedures. In 1993, Susan was promoted to Project Engineer/Engineering Supervisor. From 1996 to early 1999, she was Operations Manager for the assembly of several of SCIMED's products. In March 1999, Susan accepted a new job at ACIMED as Pilot Production manager.
Susan was a role model speaker at Michigan Tech's Women in Engineering Program from 1994 to 1998 and coordinator of SCIMED's INVEST (Industry Volunteers Encouraging Science and Technology) program from 1993 to 1997. She is a member of the American Society for Quality. Susan is also on the Professional Advisory Board for the MTU Center for Biomedical Engineering.