Susan Lewis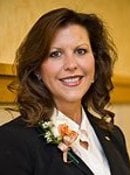 BS Chemical Engineering 1987
Susan received a bachelor's degree in Chemical Engineering from Michigan Tech in 1987. She has also participated in executive education at The University of California, Berkeley.
After graduation, Susan joined Dow AgroSciences (DAS) manufacturing and has held a diverse range of manufacturing roles in her twenty-three year career with the company, having working with technologies that include emulsion polymers, latex, cellulosics, polyglycols and surfactants. In 2006, Susan relocated to the Netherlands to assume the Senior Production Leader role. She also previously served as the DAS Business Manufacturing Leader and DAS Tech Center Director with responsibilities for production facilities across the globe. Susan is currently the Vice President of Environmental Health and Safety (EH&S) Operations for The Dow Chemical Company. In this role, she is responsible for directing EH&S operations across the company. A devotion to safety and the environment, with a passion to ensure everyone goes home safe, aligns well to her role and the values of the company.
Professionally, Susan serves on the Michigan Tech Industry Advisory Board of Chemical Engineers and was recently inducted into the Distinguished Academy of Chemical Engineers. Susan has participated in numerous conferences and panel discussions including the Executive Summit at the American Society of Safety Engineers Professional Development Conference, as well as the Society of Women Engineers National Conference. Susan is also a featured executive on Dow's Women's Innovation Network: Inspiring Women in Leadership panel. She is a member of the Responsible Care® Leadership Group of the International Council of Chemical Association and also participates as a member of the National Safety Council's Campbell Institute Steering Team. A lifelong optimist and go-getter, Susan recognizes the importance of sharing her experiences and enthusiasm with others, acting as both sounding board and mentor for both men and women throughout her career at Dow and with students at all levels.
Susan actively serves her community by remaining involved with United Way through the Leadership Circle. As a mother of three sons, Susan is a Cub Scouts den mother for Boy Scouts of America. Combining her passion for both chocolate and educational success, she will soon act as co-chair for the Delta College Chocolate Affair, supporting the Possible Dream program.
While a student at Tech, Susan was a member of the Society of Women Engineers (SWE) and the American Institute of Chemical Engineers (AIChE). She also enjoyed playing softball and broomball while on campus.
Susan and her husband, Ray ('87 Mechanical Engineering), live in Midland, MI. They have three sons – Steven, also a graduate of Michigan Tech ('08 Mathematics), Daniel, who is currently attending Purdue University, and Andrew is a sophomore at Michigan Tech in Biomedical Engineering.
In 2011, in recognition of her significant achievements, Susan was inducted into the Presidential Council of Alumnae.
This profile appeared in the 2011 Presidential Council of Alumnae induction program.