Susan Jesse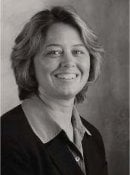 BS Mechanical Engineering 1981
Susan received a bachelor's degree in mechanical engineering from Michigan Tech in 1981. After graduation she accepted a position with General Motors Corporation. In 1982, Susan left GM and went to work for Texas Instruments in Dallas, Texas. She stayed with TI from 1982 to 1988 and during this time worked as Deputy Program Manager, Lead Mechanical Engineer, and Mechanical Design Engineer for various Fire Control and Ballistic Defense programs.
Over the next several years, Susan chose to stay at home full time with her two young daughters. She rejoined the work force in 1992 accepting a position with Lockheed Martin in Utica, New York. Her first position with Lockheed was as a Senior Systems and Hardware design engineer for radar and missile warning programs. In 1994, she moved to Lockheed's Orlando, Florida operation as the Integrated Product Development Team Lead for various fire control optical, optomechanical, and electronic products. From 1998 to the present, she has been the Director of the Target Cost Enterprise Process Center, reporting to the VP of Technical Operations. In this position, she is responsible for developing methodology and tools for designing affordable, producible products.
Susan is involved with her community as a Girl Scout leader and an elementary school math tutor. She has also served as a guest speaker for various engineering symposia.
She and her husband, David, a 1982 MTU graduate, live in Orlando with their two daughters, Katie and Kristin.