Steve Vizanko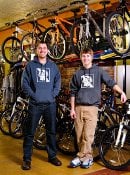 BS Business Administration 2004
In their classes at the School of Business and Economics, Steve Vizanko '04 and Caleb Wendel '07 learned how to craft a detailed business plan and meticulously estimate a new enterprise's growth.
As owners of The Bike Shop in Houghton, Vizanko and Wendel are discovering the thrills and challenges of running a flourishing business that has quickly exceeded their on-paper projections.
"Our first year has been phenomenal," said Wendel. "And this year has been even busier than last year."
Vizanko and Wendel opened The Bike Shop in April 2008. As longtime bicycling enthusiasts, they knew the sport's popularity was booming. While working together at a local cycling store during college, they discovered that many cyclists in the area would welcome a new business offering a variety of services to people who love to ride.
In fact, as students, Vizanko and Wendel pitched their idea to open a bike shop in the Copper Country as a project for their entrepreneurship class.
"We knew our market, and we knew the people we were trying to reach," said Vizanko. "Most importantly, cycling is something we're both passionate about."
All that legwork added up to more than a good grade on that class project for Wendel and Vizanko. Their innovative concept of a one-stop cycling shop is paying off in the real world, too.
"We figured that, after the first year in business, we'd be busy enough to hire our first employee," Vizanko said. "After the first week we were open, we had to hire someone. After three months, we hired our second employee."
"We are very lucky to have found employees who are as excited about bikes as we are," Vizanko said. "There are times when Caleb or I can't be here, and it's comforting to know that we are leaving the shop in good hands with people who care."
Vizanko and Wendel conceived of "e Bike Shop as more than just a store that sells all kinds of cycling equipment, from top-of-the-line bicycles to water bottles. It's a lifestyle destination for anyone who loves to ride.
Customers often gather on the couches in the front of the shop to swap advice and road stories. "The owners are eager to share their extensive knowledge of the sport with riders who stop in to look for gear and take advantage of the expert services offered, which include repairs and tune-ups.
The Bike Shop's comprehensive marketing plan also plays a big part in its success. No surprise, since Wendel and Vizanko both focused on marketing as students.
Customers can buy an array of T-shirts, hoodies, and other accoutrements that are screen-printed on-site with The Bike Shop's logo. The business also has begun sponsoring cycling events, including the Miner's Revenge Mountain Bike Race. Vizanko and Wendel enjoy taking cycling trips of their own that help them take the pulse of the sport and spread the word about their business.
Vizanko and Wendel forecast even more growth for The Bike Shop, and they're dedicated to working all the angles to keep their business profitable. They're also planning to "keep having an awesome time doing it."
"We're doing this because we really love it," Vizanko said. "We're excited: going to work every day and having fun."