Stasia and Richard Gray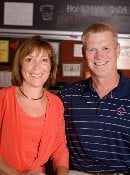 BA Liberal Arts 1982
BS Geological Engineering 1982
While working toward his bachelor's degree at Michigan Tech, Dick Gray spent one summer as a roughneck on the north slope of Alaska. He must have liked it, because he spent most of his career in the oil and gas business, but not as a roughneck. After graduating from Michigan Tech with a BS in Geological Engineering, he took a job with Amoco Production Company, which led him from Hobbs, New Mexico, to Casper, Wyoming, to their Research Center in Tulsa, Oklahoma (twice), before ending up as exploration manager in their Denver regional office. While Dick was launching his successful career, Stasi, an alumna with a liberal arts degree, was also launching her successful career, raising their three children, "they are my résumé," she says.
After more than 16 years Dick left Amoco and became the president of a privately held oil and gas company called Presco Western, LLC. He held this position from 1998 to 2005, when the company was sold. Dick had seen the revitalization of downtown Denver through the creation and success of comfortable brewpubs there, and, when their children started attending Michigan Tech, he figured that this was just what Houghton needed. He and a colleague from Denver started the Keweenaw Brewing Company (KBC). With distribution across Michigan, Wisconsin and Minnesota, Keweenaw Brewery has grown to one of the 50 largest microbreweries in the United States, eighth largest in Michigan.
Ironically, Stasi doesn't drink beer, but she supports all of the KBC functions behind the scenes and is responsible for the design and purchasing of the KBC t-shirts. In addition to the 60 plus students they have employed over the past nine years, the Grays have become tremendously involved with the Houghton business community. They have hosted countless Michigan Tech alumni events and have supported various student and alumni activities. The KBC has become a vital community resource, meeting place, and place to relax – especially for Michigan Tech students, faculty, and staff.
In 2013, the Grays were recognized with the Michigan Tech Alumni Association's Outstanding Service Award for their exemplary service.