Jackie (Hall) Stachowski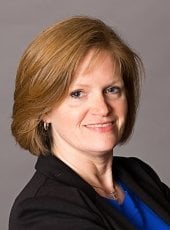 BS Metallurgical and Materials Engineering 1994
Jackie (Hall) Stachowski '94 chose Michigan Tech after attending a Women in Engineering summer camp which she found with the help of a high school counselor. Her husband of 30 years, Tim Stachowski '90, whom she met at Tech, is an alumnus.
Although she went to camp interested in chemical engineering, she left knowing that she wanted to come back for metallurgical engineering.
She says Carl Rundman was her most memorable professor at Michigan Tech. "He was clearly passionate about the subjects he taught and often made students laugh."
Stachowski's most memorable times outside of class involve her sorority, Theta Chi Epsilon. "This group of ladies provided fun, emotional support, study partners, and much-needed distraction during my time at MTU. Our signature line is "As sisters we remain" and I can say with confidence that this is true. I love and respect my sisters from Tech."
She says Michigan Tech prepared her well for her career. "The ability to not only comprehend information but also communicate it in a clear and concise way has been instrumental for me."
Stachowski's first job after graduation was as a Quality Engineer with LTV Steel. She interned with LTV while at Michigan Tech and they hired her when she graduated. "Although now out of business, LTV provided many good learning opportunities for me. While there I progressed from quality to product metallurgy to technical services to technical sales. When LTV closed, I was offered a position as a consultant for their competitor and then asked by a former (LTV) manager to join GM."
Most recently, Stachowski has returned to the steel industry and now works for Nucor Steel, where she's been for the past 10 years. At Nucor she has progressed from technical representative to applications engineer to district sales manager to product and market manager.
Career highlights and notable achievements include being recognized as a high potential candidate at LTV and receiving the manager's award for a study she designed and carried out at a customer's facility. She has chaired and supported several AISI Steel Market Development Institute committees and was recognized as their "Triple Threat Woman" on Mother's Day 2016. She also served as chapter president of the Association of Women in the Metal Industries.
Stachowski's advice to students is: "Finish what you start and make sure the work you do is something you can be proud of. Leave things better than you found them. My philosophy is that it should matter that I was here."