Stacey Keener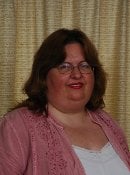 Stacey Keener earned a Bachelor of Science degree, cum laude, in computer science from Michigan Tech in 1988 and earned a Master of Science degree in computer science from the University of Houston - Clear Lake in 1993. After graduating from Michigan Tech, she joined NASA as a computer engineer at the Johnson Space Center in Houston, Texas. She was a graduate of Gwinn High School, Gwinn, Michigan, in 1984.
Keener held many positions in different organizations at the Johnson Space Center (JSC) including supporting the JSC Chief Information Officer in August 1994. She was named the Information Technology Manager for the Human Health and Performance Directorate Staff Offices in 2012. She is responsible for the computers, hardware, and software for directorate management and the Human Research Program, which includes doctors, life scientists, and human factors engineers. She returned from a rotation as support to the JSC Center Export Administrator as the lead for foreign national badging in 2008.
In December 2000, she received the Johnson Space Center's highest honor, the Certificate of Commendation, for her work in information technology as the Y2K Lead for the Space Life Sciences Directorate. She is a member of the Women of NASA Project and has participated in a number of math and science webchats with kids from around the world. She is also featured in the NASA Profiles: Careers in Spaceflight website under the computer section and has written an article for Government CIO Magazine.
Keener was inducted into the Michigan Tech President's Council of Alumnae in April 2001 and received the Outstanding Young Alumni Award from Michigan Tech in August 2001. She was active in Toastmasters and has received a number of awards from that group. In 2008 she became a faculty member of the University of Phoenix Online Campus teaching classes in computer networking. She also became an evaluator for Western Governors University in 2013. She serves her church as bell choir director, assisting minister, and former council member. Keener married Jack Keener in 2012 and has a daughter, Stephanie Morrison, step-son, Ronnie Keener, and step-grandson Noah Keener. She and her husband live in League City, Texas.
Updated November 2014