Terry Smythe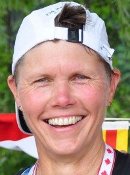 Terry Smythe is a long-standing friend of Michigan Tech. She is the founder and volunteer coach of the Michigan Tech Rowing Club, which got its official start in 1995 with shells donated by Michigan Tech Alumnus Jim Dreher '62. Smythe was and is an accomplished rower in her own right, having attended two Olympic Trials in her day and having competed all over the world. In 2006, she brought home five gold medals from the Masters World Rowing Championships held in Princeton, NJ.
From 1998-2002, she was chair of the Presidential Advisory Council for Women's Athletics at Michigan Tech (PACWA). Smythe was instrumental in developing the Michigan Tech employee wellness program in 1996 and was also a member of the Michigan Tech Tennis Advisory Council from 1998-2002.
Smythe is passionate about fitness for all ages, sizes, and shapes, "No Excuses!" She serves as fitness director for Aspirus Keweenaw. In her position there, she has collaborated on several Senior Design projects with the Department of Biomedical Engineering and has led many Michigan Tech Summer Youth explorations. She also teaches spinning and indoor rowing classes for Tech students and is often on campus as a motivational speaker and presenter.
Smythe has received numerous awards for her work promoting fitness and rowing and was honored with an invitation to sit on the Michigan Governors Council on Physical Fitness, Health and Sports in 2007.
This profile originally appeared in the award dinner program for the 2008 Michigan Tech Alumni Association awards ceremony, where Ms. Smythe received the Honorary Alumni award.