Scott Usitalo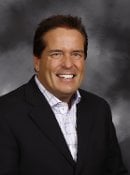 Scott Usitalo is Vice President of Global Brands for Kimberly-Clark's nearly $7 Billion Family Care Business. His responsibilities include ensuring brands such as Kleenex, Viva, Scott, Cottonelle, and Neve are strong and increasingly relevant to consumers across the globe and that robust & products innovation plans are in place to support global growth targets. He also owns decisions related to overall brand management; including the respective vision, consumer promise, architecture, and visual identity for each brand.
Prior to joining Kimberly-Clark, Scott served as Senior Strategist with Seed Strategy Inc. where he provided innovation consulting for several global clients including Wrigley, Kellogg and Procter and Gamble.
As an executive-on-loan from Procter and Gamble in 2005, Scott was founding President of a non-profit tourism marketing company for the nine counties and three states surrounding the city of Cincinnati, Ohio.
After graduating from Michigan Tech in 1981, Scott worked +24 years with Procter and Gamble, in both line manufacturing (+ nine years) and brand management roles (leading such brands as Pringles, Folgers, Duncan Hines, Vidal Sassoon, and Crisco). He also spent nearly four years in global marketing reporting to the Global Marketing Officer building overall marking capabilities.
While attending Michigan Tech, Scott was a member and President of Blue Key, a member of the Michigan Tech Student Foundation and of the Phi Kappa Tau fraternity. He also served on the Michigan Tech Alumni Association Board of Directors.
Scott was the recipient of an honorary degree and gave the Commencement address in December 2013. Raised in South Range, he worked his way through Tech and left campus to a global career and some wisdom discovered along the way.
First, he told the graduates to look around, find their families, and say "thank you" to those who helped them so much along the way. He challenged the graduates to explore the world, think big to solve problems, think small like cell phone technology, and lead gracefully.
"You'll find that real growth comes when you're down in the valleys, not at the top of the mountains. The world needs you."
Updated August 2015