Suzanne Sanregret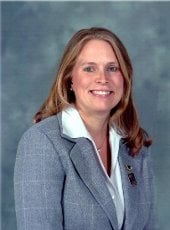 BS Business Administration 1993
MS Business Administration 2006
Athletic director since 2005, Suzanne Sanregret, PhD, has continued Michigan Tech's traditions of excellence both on and off the field of competition. Her vision within the Huskies' athletic programs and work on conference and national committees has positioned Michigan Tech as a leader in collegiate athletics.
Suzanne, who was named 2009 Division II Central Region Athletic Director of the Year, served a five-year stint on the NCAA Division II Management Council from 2006–11. During that time, she was also the chair of the NCAA Student-Athlete Reinstatement Committee and member of other NCAA committees on strategic budget planning, championships and membership.
In addition to her NCAA work, Suzanne has functioned as the chair of both the Great Lakes Intercollegiate Athletic Conference Management Council and the Western Collegiate Hockey Association Executive Committee along with numerous other panels within each league.
Tech teams and individuals have experienced new levels of success during Suzanne's tenure. Twelve squads have captured conference titles, while a total of 17 teams and multiple individuals have earned bids to NCAA postseason competition since 2005.
Suzanne was instrumental in the addition of women's soccer as Tech's 14th varsity sport in 2010. The program experienced immediate success, earning a share of the 2012 GLIAC title and making NCAA Tournament appearances in 2013 and 2014.
Suzanne's leadership has also been substantial in the completion of nearly $10 million worth of capital improvement projects to every one of Tech's athletic venues. The MacInnes Student Ice Arena has been upgraded with a video scoreboard (2013), ice plant (2012), suites (2009) and seating (2006). The SDC Gymnasium received new seating (2011), floor (2009) and scoreboard (2006). Sherman Field had synthetic turf and lighting installed in 2007. Gates Tennis Center court surfaces and roof were replaced in 2008. The Nordic Training Center has had continual upgrades including homologation and ski waxing building remodeling in 2005.
Michigan Tech has hosted numerous regional and national athletic events under Suzanne's guidance including NCAA Division I Men's Ice Hockey Midwest Regionals in 2006, 2011 and 2012; NCAA Division II Women's Basketball Midwest Regionals in 2010, 2011 and 2015; NCAA Skiing Central Regionals in 2011 and 2013; Junior Olympic Skiing in 2006; and US National Championship events in skiing in 2007, 2015 and 2016.
Suzanne took on additional responsibilities for oversight of the University's Recreation Department in 2011 and of Tech's Outdoor Adventure Program in 2016.
A veteran of working within Michigan Tech athletics, Suzanne started in 1993 in the equipment room. She moved to business manager, then to compliance coordinator and finally to assistant athletic director for business and NCAA compliance prior to taking over as AD.
A 1989 graduate of Houghton (Mich.) High School, Suzanne attended Michigan Tech and graduated in 1993 with a business administration degree. She finished her master's degree in business administration at Tech in spring 2006 and completed her doctorate in higher education administration in spring 2017.
In 2007 she was inducted into the Presidential Council of Alumnae in recognition of her many career achievements.
Suzanne is married to John B. Sanregret, who works as a commercial lender for The Miners State Bank. They reside in Hancock, Michigan, with their sons Matthew and Bradley.
Updated October 2017.