Ruth and Dr. Robert Nara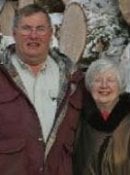 Bob and Ruth Nara have done so much for the University, one could assume they already were alumni. Coming from a family with deep roots in the Keweenaw, Bob launched a successful career as a dentist and founding Oramedics International preventative dentistry system. For more than fifty years, Bob and Ruth have been married and partners in the dental business, in addition to their myriad philanthropic projects.
The Naras practice what they term "catalyst philanthropy" through the Nara Foundation, so that others can build upon the gifts they have created. For Michigan Tech, this has meant their being champions of the Copper Country Archives housed in the J. Robert Van Pelt and John and Ruanne Opie Library. They have also brought the University and local communities together through presidential lunches with local community and business leaders.
The Naras are best known, however, for Nara Nature Park and Trails. Located near the Pilgrim River just outside of Houghton, this extensive, beautiful tract of land makes nature available to everyone, including Michigan Tech students, faculty, and staff. The park and trails are also connected the Michigan Tech trails, so people can enjoy access to the extensive system of trails close to town and campus.
In fact, Michigan Tech students helped to develop Nara Nature Park. The Forestry and Environmental Resource Management Enterprise team helped with property assessment, timber inventory, marking of trails and trail hazards, and recommendations for cutting. The Naras continue to support the University for many good reasons, as they once said in an interview, including the fact that they know their gifts will be well taken of wisely.
In recognition of the Nara's contributions to Michigan Tech, the Alumni Association presented the couple with the Honorary Alumni Award in August if 2013.