Ross Roeder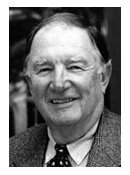 Ross E. Roeder says his years at Michigan Tech gave him "an edge" in graduate school and in his career.
Roeder studied at Tech from 1958-60 before transferring to Michigan State University, where he earned a bachelor's degree in business administration. After serving in the US Army, he earned an MBA at UCLA.
Roeder is chairman of the board of Smart & Final, Inc., a warehouse chain that serves caterers as well as small businesses and restaurants. The firm operates in the western US and northern Mexico.
In a career of remarkable range, Roeder has led businesses in food service, restaurants, photo developing, construction, publishing, and consultation for emerging companies.
He maintains close ties with Michigan Tech. He is a charter member of the McNair Society of planned givers; a past president and life trustee of the Michigan Tech Fund; and a member of the National Advisory Board of the School of Business and Economics. He has established an endowed scholarship for the SBE to encourage entrepreneurship and leadership. He remains a fervent fan and financial supporter of Michigan Tech's football program. Roeder was a founding member of Tech's chapter of Phi Kappa Tau Fraternity.

He was awarded the Michigan Tech Board of Trustees Silver Medal in 1986. He was also named the Alumni Association Honorary Alumnus in 2007.
Excerpted from the 2007 Alumni Reunion Awards Program