Ronald R. Vriesman, PE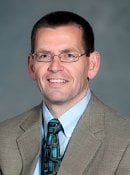 BS Civil Engineering 1978
Ron Vriesman completed his baccalaureate degree in civil engineering at Michigan Tech in 1978 and his master's degree in environmental engineering at the University of Illinois (Urbana-Champaign) in 1980. Mr. Vriesman is currently a Partner in Environmental Resources Management, Inc. (ERM), a global environmental, health and safety consultancy headquartered in London, England. Mr. Vriesman has worked for ERM in Holland, Michigan for the past 26 years (prior to 1999 the company conducted business as Dell Engineering, Inc.) Prior to ERM, he spent three years as a research engineer with NCASI (a paper & pulp industry related environmental research and advocacy group) in Kalamazoo, Michigan.
Mr. Vriesman is a registered Professional Engineer in Michigan and is an active member of the West Michigan Environmental Action Council and the West Michigan Sustainable Business Forum. He has also been involved with numerous community groups including serving as the Executive Committee Chair and the Business Committee Chair of the Holland Area Weed and Seed program, a federal initiative to address crime and gang activity in urban areas. He received a Public Service Award from the U.S. Department of Justice for his efforts in 1997.
While at Michigan Tech, Ron was active in the American Society of Civil Engineers and the Michigan Tech Four Wheelers. He has two children, Daniel and Ashley, and two step-children, Matthew and Kyra, and lives with his wife, Robyn, in Holland.
From 2009 Induction to the Civil and Environmental Engineering Academy