Ron Staley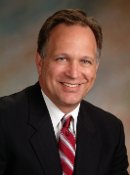 AAS Civil Engineering 1977
BS Business Administration 1980
Restoring the Past and Supporting Tech's Future
Ronald Staley, who earned an associate's degree in civil engineering technology in 1977 and a bachelor's degree in business administration in 1980, has high praise for Michigan Tech.
"I learned how to study hard," he recalls, "and I remember working hard. I wouldn't be where I am today without Michigan Tech."
With his dual degree, he says that he was able to understand building construction and such critical business principles as overhead, return on investment, balance sheets, and income statements. That capability set him up for creating a new business niche—historical preservation—for his employer, The Christman Company, a construction firm headquartered in Lansing.
In 1988, the firm began to restore the Michigan State Capitol. Staley led the day-to-day work of a nationally recognized team of experts during the four-year project. When it was finished, Staley approached the company president, who also was a Tech graduate. "I realized that there weren't any general contractors who specialized in historic preservation work—that it would be a differentiating business sector." He was directed to codevelop a marketing study and business plan, relied on his Tech education to do so, received the go-ahead, and started the unit in 1992.
Historical preservation has taken Staley afar. He has worked on buildings of the Keweenaw National Historical Park in Calumet; five-hundred-year-old churches in Poland; Notre Dame's famed Golden Dome; the Capitol of Virginia, which was designed by Thomas Jefferson and built in 1785; the Henry Ford Estate; Fort Mackinac; the US Capitol, including the stands for the 2009 inaugural; and, most recently, the former American embassy in Tangier, Morocco.
Staley is gratified to be entrusted to undertake "these buildings that have a history," but he doesn't live in the past. "If you stand still and look back," he says, "yes, it's exciting. But you have to keep moving. We have a great résumé of projects, but you always have to look for the next one." That said, he adds, "There are a lot of buildings I'd love to get my hands on."
He has always been an adventurous soul. As a scuba diver at Tech, he explored the depths of Lake Superior and checked out shipwrecks; and as a pilot today, he takes flight with the two airplanes he owns: a WWII era North American T-6 Advanced Trainer and, most recently, a 1981 Russian jet, an Aero L-39. Staley, who is 52, took up flying after his two children were grown.
He allows that he is part-ordinary, part-standout. "I attribute much of what I accomplished to hard work. My mentors are those who demonstrated that hard work and making the extra effort will take you far. Also, I still love to learn. That, too, comes from Michigan Tech."
Staley and his wife, Linda, support the University's MBA program. They are also members of the McNair Society through their bequest for Michigan Tech, which is for un-restricted giving. "We'll let Michigan Tech decide the best place to put that money."
His overall goal for their support: give engineers business skills. "Engineering and business degrees are the best combination you can have."
He would also instill in students the realization that "If you have an idea, you must take the lead. Be a self-starter. Do what makes sense. And, of course, you need good people behind you to help make it happen."
With respect to Tech's fundraising, he would like to see more of what he calls a "challenge and opportunity"—instilling a culture of giving among students. "Tech needs to encourage students early on that they need to give back."
He himself received an SBE scholarship while at Tech. "I was honored. I was floored. Thank you!"
Besides leading its historical preservation group, Staley is the senior vice president of Christman's mid-Atlantic operations based in Washington, DC. He started working for the firm in 1985. Often immersed in his career, he allows that his wife, Linda, "kept the family going." "She supports me in everything but flying," jests this pilot. "She doesn't care to fly."
But when it comes to their giving to Michigan Tech, they are pilot and copilot: "We so firmly believe in the outcome."
Taken with permission from the 2010 issue of Foresight, a publication of the Michigan Tech development office