Jill Renders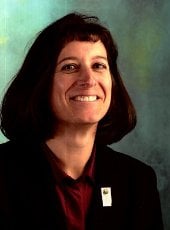 BS Chemistry 1985
MS Chemistry 1988
In 1985 and 1988 respectively, Jill received both her bachelor's and master's degree in chemistry from Michigan Tech.
After graduating from Michigan Tech, Jill accepted a position with Dow Chemical Company in Midland, Michigan. While at Dow she was a research chemist for new product development for the consumer home care market, Safety Coordinator for a department of 100 people, and a technical service representative for laundry products.
In 1992, Jill left Dow Chemical and returned to the Upper Peninsula where she took a position in the State Police Department as a forensic scientist. In this position, she is responsible for the collection and analysis of evidence in various crime scene investigations including drunk driving, arson, and death cases. Jill has received extensive training in this line of work including laboratory safety, law enforcement, laboratory techniques, and instrumentation.
Throughout her academic and professional career, Jill has been involved in several publications including two patent disclosures while at Dow Chemical, and the co-authoring of a paper titled "Statistical Compilation of Blood Alcohol Data from the Rural Upper Peninsula of Michigan".
For three years Jill taught an Evidence Technician Training course as part of the Upper Peninsula Law Enforcement Program at Northern Michigan University. As the sole regional female working in the field of Forensic Science, Jill serves as a role model to students and gives many community presentations to encourage female students to pursue science-related careers.
In addition to these presentations, Jill has been a guest speaker for Michigan Tech's chemistry department and the University's Summer Youth Program.
Jill lives in Negaunee, Michigan with her husband, Charles, a 1985 graduate of Michigan Tech.
From the 2001 Presidential Council Alumnae Induction.