Rebecca Nold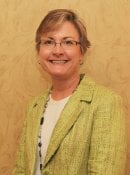 BS Electrical Engineering 1985
Rebecca received her Bachelor of Science degree in Electrical Engineering from Michigan Tech 1985. In 1992 she earned her master's degree in Electrical Power Engineering from Rensselaer Polytechnic Institute.

Upon leaving Michigan Tech in 1985 she accepted an engineering position with Sundstrand Corporation - an aerospace equipment manufacturer. In 1989 she left Sundstrand and began her career with General Electric as a senior design engineer. She remains with GE today as a Senior Design Engineer.

Professionally, Rebecca is listed as co-inventor on two patents and is a senior member of the Institute of Electrical and Electronics Engineers (IEEE).

As a student at Michigan Tech she was a member of Alpha Gamma Delta Sorority, Eta Kappa Nu Society and the IEEE Student Chapter. In addition, she was chosen Michigan Tech's Electrical Engineering Undergraduate Student of the Year in 1984.

Rebecca remains connected to Michigan Tech as she is an Alumni Association Chapter Leader in Upstate New York. She helped organize a happy hour alumni event in Saratoga Springs in the spring of 2013 and a hockey game event in early 2014. She and husband Bob are members of both the Presidents Society and the McNair Society at Tech.

Michigan Tech is a family affair as her father, Steve Shetron, is a retired Michigan Tech Forestry professor and her husband, Bob, is also a Tech alum – class of 1985 in electrical engineering.

Rebecca and Bob have two children, Natalie and Andrew, and they make their home in Glenville, New York.
In 2014, in recognition of her significant achievements, Rebecca was inducted into the Presidential Council of Alumnae. This profile appeared in the induction program, September 19, 2014.