Raine L. Gardner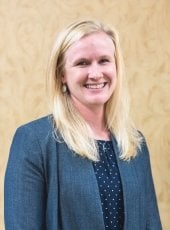 BS Civil Engineering 2005
Raine graduated from Michigan Tech in 2005 with her bachelor's degree in civil engineering. She then went on to earn her master's degree in civil engineering from the University of Wisconsin-Madison.
She is currently a Senior Project Engineer at MSA Professional Services, Inc. where she manages and engineers municipal and park/recreation projects. Raine is a member of MSA's Professional Services Board of Directors and is parks and recreation practice leader.
Raine has written articles published in both the Baraboo News Republic and the Wisconsin League of Municipality monthly magazine. She has spoken at multiple conferences and associations, including the American Public Works Association-Wisconsin, the Wisconsin League of Municipalities and various Park and Recreation conferences. She has also been asked to speak at the American Trails – International Trails Symposium this spring in Syracuse, New York.
Raine is a current member of the American Society of Civil Engineers, a Wisconsin Parks and Recreation Association Member, and a National Recreations and Parks Association Member. In October, Raine will receive the 2018 American Council of Engineering Consultant's Young Professional of the Year Award in Las Vegas.
She is involved with the Baraboo Middle School Science Club, American Legion Auxiliary, and is a mentor for Female Students on Engineering as a Career.
While at Michigan Tech, Raine was a member of Chi Epsilon, the Society of Women Engineers, the Society for Environmental Engineers, American Society of Civil Engineer's and the Concrete Canoe Team. In addition, she received the Amie M. Mathy Scholarship, Construction Financial Management Scholarship, and several others.
As an alumna, Raine remains involved on campus. She has spoken in the Civil Engineering department's professional practice classes every semester on Work/Life Balance and engineering as a career. She has also presented to the American Society of Civil Engineers on "Working as an Engineer in the consulting industry". She also recruits for her company at Michigan Tech's career fair.
Raine is married to Randy Gardner '03 '04, who graduated from Michigan Tech with his bachelors and masters in environmental engineering. They live in Baraboo, WI with their two children.
From the 2018 Presidential Council of Alumnae Induction Ceremony program