William Raduchel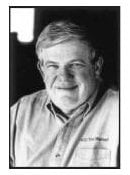 William J. Raduchel, a native of the Keweenaw, attended Michigan Tech before earning a bachelor's degree in economics from Michigan State University and both a master's and doctoral degree in economics from Harvard University. He served on the Harvard faculty eventually becoming Dean of Admissions and Financial Aid.
In the business world, Raduchel has held executive positions with industry giants Xerox, Sun Microsystems, AOL Time Warner and McGraw-Hill, eventually becoming CEO of Ruckus—a global supplier of advanced wireless systems for the mobile internet infrastructure market.

With more than 20 patents, Raduchel continues to be an innovator and technology leader. Author-filmmaker Ted Leonsis calls him "a technology guru, a thought leader and an evangelist for all things digital."
Despite a long and successful career, Raduchel shows no signs of slowing down, spending his time as an angel investor, a consultant for the U.K.'s Daily Mail and serving on the advisory boards for the Salvation Army, LiveIntent, Black Ridge Technology, Duke University, Medlink LLC and others.
Excerpted from Tech Today April 4, 2016