William Predebon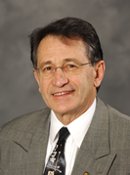 William Predebon has been a faithful and dependable leader on campus, in the community, and in his profession as he advances the department's mission and vision.
He earned his bachelor's degree from the University of Notre Dame in 1965 and his master's and doctorate from Iowa State University in 1968 and 1970, respectively. He worked at what is now the US Army Research Laboratory and then joined the Department of Mechanical Engineering-Engineering Mechanics at Michigan Tech in 1976. He was director of graduate studies and has been chair of the department since 1997.
Dr. Predebon, a fellow of the American Society of Mechanical Engineers, has received numerous honors, including membership in Michigan Tech's Academy of Teaching Excellence; the Outstanding Service Award from the student chapter of the Society of Automotive Engineers; Michigan Tech's Distinguished Teaching Award; the first annual Martin Luther King Award from the Black Students Association; and the Distinguished Faculty Award from the Michigan Association of Governing Boards of Colleges. In 2010, he was named an Honorary Alumnus by the Michigan Tech Alumni Association.
He has held summer appointments at Argonne National Laboratory, Southwest Research Institute, and Honeywell Inc./Alliant Techsystems Inc. His research has involved experimental, analytical, and computational elements and has been supported by the National Science Foundation, the Department of Defense, and other government agencies and industrial partners. He has two US patents.
He is a captain in the US Army Reserves and is a member of four honor societies: Tau Beta Pi (engineering), Phi Kappa Phi (academic excellence), Omicron Delta Kappa (leadership), and Theta Tau (engineering). His leadership has contributed to a more effective and enriching academic community.
Updated April 28, 2015, to include the 2010 Honorary Alumni Award.