Kathleen Pollock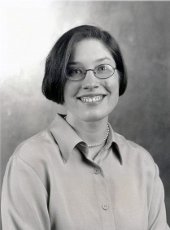 Kathy earned her Bachelor of Science degree in chemistry from Michigan Tech. After completing her course work at Tech, she went to the University of Wisconsin-Madison where she began studying for a master's degree, and in addition, worked as a teaching assistant. Kathy completed her master's degree in chemistry in 1995. She received a State of Michigan secondary certification through Michigan Tech in 1996-97, so she could begin a career in teaching. In 1997 she took a job as a chemistry teacher at Cedarburg High School in Cedarburg, Wisconsin, and is with the school today.
During her time at Tech, Kathy worked as a tutor in the chemistry learning center, was a member of the Society of Women Engineers, the German Club, and was president of the American Chemical Society - student chapter. She also completed a summer internship at Humboldt University in Berlin, Germany.
Since graduation she has been a guest lecturer in the chemistry department and has been a Women in Engineering speaker.
She is married to David Pollock and they reside in Cedarburg, Wisconsin.
From the 2000 Presidential Council of Alumnae Induction.