Lisa Peterson-Nelson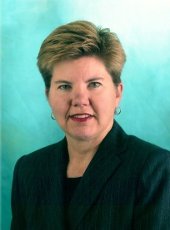 BS Electrical Engineering 1984
MS Operations Management 1987
Lisa received a bachelor's in Electrical Engineering from Michigan Tech in 1984. Following graduation, she accepted a position as Design Engineer for Boeing Aerospace Company. She left Boeing the next year and returned to Michigan Tech to pursue a master's degree. While working on her master's, she accepted an intern position with Ford Motor Company. In 1987, she received her Michigan Tech master's degree in Operations Management.
After receiving her master's degree, Lisa took a position with Boeing Electronics Company in Renton, Washington as Senior Quality Engineer. She returned to the Midwest in 1989, accepting employment with Alliant Techsystems, Inc. located in Minnesota. For three years she held the position, Principle and Senior Quality Improvement Engineer, and in 1992, she became Total Quality Management Consultant. Lisa then left Alliant to work for Honeywell, Inc. She spent the next five years with Honeywell, holding a variety of positions in the quality area, including Home and Building Control Total Quality Leader. She chose to leave Honeywell and join American Express in Minneapolis as Vice President Six Sigma Deployment.
In 2001, Lisa left American Express for Data Recognition Corporation. She was initially hired as Chief Quality Officer, and was recently promoted to Vice President of Project Management and Quality.
Lisa is currently an executive committee member of the Juran Center for Leadership in Quality, University of Minnesota's Carlson School of Management. She is also a member of the American Production & Inventory Control Society and the American Society of Quality Control. In addition, she mentors a diverse group of interns within Data Recognition Corporation. Throughout her career she has authored or co-authored numerous publications for a variety of audiences.
As a student at Michigan Tech, Lisa was a member of Alpha Sigma Tau sorority and served on the Concert Lecture Board. Since becoming an alumna, she has returned to campus as a guest lecturer in the School of Business.
Lisa is the mother of Erik and Rachel, and step mom to James and Lynn. She and her husband, Jim, make their home in Wayzata, Minnesota along with the children.
From the 2004 Presidential Council of Alumnae Induction.