Paul Mikkola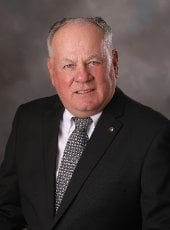 BS Metallurgical Engineering 1966
Honorary PhD Engineering 1989
Paul Mikkola '66 '89, who earned a bachelor's in metallurgical engineering and an honorary doctorate, says to be successful you need to focus on one or two things at a time and do them well.
"Respect opinions that may not reflect your beliefs and understanding," he says. "And, understand failure is often the first step of success. Treat people as you would like to be treated. Do not be selfish with knowledge, experience, and understanding you have gained during your career."
That philosophy began while growing up in the Keweenaw. Mikkola's father was a commercial fisherman at Portage Entry and his mother worked at Superior National Bank. After graduating from Chassell High School in 1962, he chose Michigan Tech because it was close to home.
His favorite professor was Gilbert (Gilly) Boyd. "His introduction to a material science course was a classic; hated by ME students and loved by Metallurgy students." Outside of the classroom, Mikkola says he remembers the drives to Houghton on winter days for 8 a.m. classes. "Often 14 miles of pure terror, Portage Entry to the Union parking lot."
After graduating, Mikkola worked at General Motors for 35 years. He was the GM-Michigan Tech University relations coordinator and director of advanced manufacturing engineering and hired more than 500 engineering graduates. He later became the president and CEO of Metal Casting Technology, Inc. (a GM/Hitchiner Manufacturing Corporation joint venture company) before retiring in 2008.
He was named a Fellow of ASM (American Society for Metals) International; member of the American Foundry Society and their national president 2007-2009; Michigan Tech Fund board life trustee as well as a member of the College of Engineering Advisory Board. He received the AFS Gold Medal in 2000 and the E.J. Walsh Award by the Foundry Education Foundation in 2006, and is a member of Michigan Tech's Academy of Materials Science and Engineering.
Mikkola is married to his wife, Pam, of 48 years. The couple have two grown children; Karen '93 BS, '95 MS in Florida and Maija DVM in Boston area.
From the 2017 Alumni Awards induction.