Leanne Panduren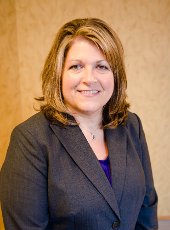 BS Civil Engineering 1993
Leanne graduated from Michigan Tech in 1993 with a BS in Civil Engineering. She is CEO and President at Rowe Professional Services in Flint, Michigan and has been there throughout her entire career. After graduation, she started as an Assistant Project Engineer. Since then she has earned a series of promotions including to Project Engineer, Project Manager, Civil Utilities Division Manager, and President before assuming her current role in January 2016 when she replaced Michigan Tech alumnus John Matonich '81. She is the first, and to date only, woman named Principal, Board Member, and CEO at Rowe. During her time there, she has worked on infrastructure projects in Genesee, Saginaw, Tuscola, Oakland, Sanilac, and St. Clair counties and aided in obtaining and administering federal and state grants to help complete projects, including treatment plants, utility system improvements, roads, bridges, and trailways.
While at Michigan Tech, Leanne was a member of Michigan Tech's student chapter of the American Society of Civil Engineers, and Delta Phi Epsilon. She continues to serve the University as a member of the Civil and Environmental Professional Advisory Committee.
Leanne's professional affiliations include currently serving as Vice-President of the National Society of Professional Engineers' Educational Foundation, as Committee Chair of the Michigan Society of Professional Engineers Legislative and Government Affairs Committee, on the Board of Directors for the National Society of Professional Engineers (NSPE) and Chair of the Board of Directors of the National Institute for Certification of Engineering Technologists.
Community service efforts Leanne has participated in include serving on the board and as Treasurer of the Community Foundation of Greater Flint, the board of the Family Literacy Center of Lapeer County, the Richfield Township Zoning Board of Appeals, GST Michigan Workforce Development Board, and as a volunteer with Junior Achievement and Mathcounts.
Leanne has been honored numerous times by the Michigan Society of Professional Engineers (MSPE) including the Flint Chapter Young Engineer of the Year (1997), a Professional Award (2001), Young Engineer of the Year (2002), Engineer of the Year (2014). She was named a Fellow of MSPE and NSPE in 2009.
Leanne and husband Randall have two children, a boy and a girl. They reside in Davison, Michigan.
From the 2016 Presidential Council of Alumnae induction.