Pamela Klyn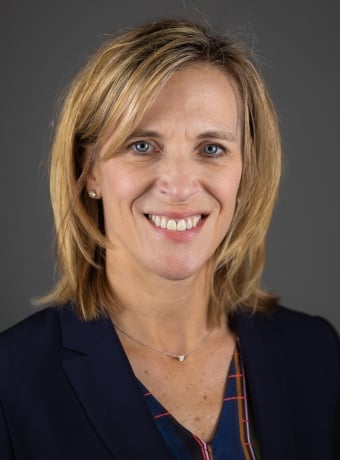 BS Mechanical Engineering 1993
Pamela Klyn is currently a Senior Vice President in the Global Product Organization at Whirlpool Corporation. In this role, she leads all of the Washer, Dryer and Commercial Laundry platforms globally and has accountability for developing the product plans and long-term strategy to drive profitable growth in all regions. She has been at Whirlpool since she graduated from Michigan Tech in 1993.
Prior to her current role, Pam served as the Vice President, Products & Brands for Whirlpool EMEA from 2013-2015, during which time she was based in Milan, Italy. During her time with Whirlpool, Pam has served in a number of business and engineering leadership roles including leading the North American Cooking and Dishwashers businesses as well as serving as the first female Technology Director for Whirlpool Corporation.
Pam was recognized as one of the "Top 40 under 40" Business Leaders in Michigan in 2005 and in early 2012 she was profiled in the Wall Street Journal article "From Rising Star to Senior Manager".
Pam is passionate about helping younger talent at Whirlpool grow and develop. She serves as a mentor to a number of individuals and looks to provide tools and guidance for emerging female leaders to support their career growth and to give them the confidence to pursue roles at the highest levels of the organization.
Pam was elected to the Michigan Tech Presidential Council of Alumnae in 2012 and she has also served as a member of the College of Engineering Advisory Board since 2019 as part of her ongoing connection to Michigan Tech. In addition, Pam serves on the Board of Directors for the Boys and Girls Clubs of Benton Harbor and she has served as the co-lead of the Whirlpool United Way Campaign for multiple years in support of her community. Pam is also a member of the Board of Directors for Patrick Industries, a $3B+ publicly traded company.
Pam graduated from Michigan Tech with a Bachelor of Science degree in Mechanical Engineering in 1993 and she earned a Master of Science degree in Mechanical Engineering from the University of Michigan in 1995. She also earned an Executive MBA from Bowling Green State University in 2002.
Pam and her husband Steve live in southwest Michigan and she has two step-children, Parker and Cara.
From ME-EM Academy Induction May 2021