Otha Thornton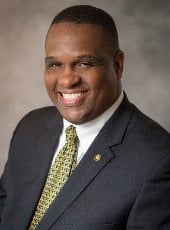 MS Rhetoric and Technical Communication 2001
Honorary PhD 2009
Otha E. Thornton, Jr. received his bachelor's degree in urban studies from Morehouse College. In 2001 he earned a MS in Rhetoric and Technical Communication from Michigan Tech and was awarded an honorary PhD from Michigan Tech in 2009.

He is a retired United States Army Lieutenant Colonel who completed his career with tours at the White House Communications Agency and with United States Forces-Iraq in Baghdad, earning the Bronze Star Medal for exceptional performance in combat operations during Operation Iraqi Freedom 2009-2010. His military background has allowed him to volunteer throughout the country and the world.

Otha is a principal consultant and owner of the Thornton Consulting Group, and also serves as a senior operations analyst with General Dynamics in Fort Stewart, Georgia. Education has always been a major area of interest for him, and he has been deeply involved with the National Parent Teacher Association. In addition to being the Immediate Past National President and member of the organization's Board of Directors, he also has worked closely with PTA's in Georgia and Maryland. Other educational activities have included service on an Advisory Group for Georgia's Partnership for Excellence in Education and the governor appointed Maryland Education Task Force.

Otha keeps a high profile as a civic leader in his communities. He is an active member of Richmond Hill's Church of Christ and the Alpha Phi Alpha Fraternity. A life member of the National Eagle Scout Association, he has devoted more than 25 years to that organization. Numerous awards have resulted from his many contributions to society, including recognition by Ebony on its 2013 Power 100 List, by Morehouse College as Alumnus of the Year, and by Michigan Tech as Outstanding Young Alumni. He has been married to Caryn, an educator, for 26 years and they have a daughter and son.